It has been a long and difficult road to success for Jacob Smith. After 20 years in the police service, he started growing vegetables on a small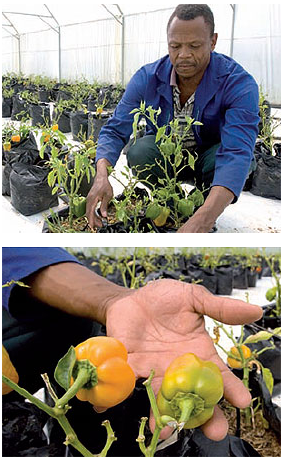 patch of land. With the help of the Department of Land Affairs, he now owns land and supplies vegetables to restaurants and the Johannesburg Fresh Produce Market.
For 20 years, Jacob Smith worked under dangerous circumstances chasing criminals and bringing them to book. But when this 48-year old man from Rietfontein in the Vaal area of Gauteng, realised he wasn't going to be promoted beyond the rank of a sergeant, he quit his job.
He started doing small jobs to support his family. But without a regular income he soon found himself in debt.
Passion for farming
"I always had a passion for vegetable farming," he said. "So I started growing vegetables like spinach and tomatoes on a small piece of land in my backyard to sell to my neighbours."
His business started growing and he was supplying street vendors in Rietfontein and other areas in the Vaal. But because of the shortage of space he couldn't keep up with the demand.
"My wife, Evelyn, was helping me. She suggested I ask government for funds to grow my business," Smith said.
Training
After talking to the Department of Land Affairs, they helped him to get a 58-hectare plot of land. "The department also helped me to do a basic training course in vegetable farming," he said. "The course helped me a lot as it introduced me to modern methods of growing vegetables in an urban area."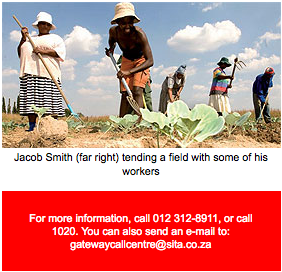 Production
After completing his training, Smith got help from government to build hydroponic tunnels. Hydroponic farming is a method of growing plants, especially vegetables, in water containing essential nutrients rather than in soil. This is done in big plastic tunnels.
Smith uses the hydroponic tunnels to grow vegetables like cucumber, tomatoes, green pepper, spinach and parsley.
"The tunnels have made it easier for me to improve my production," he said. "It protects the crops from risks like pests and too much sunlight."
Smith now provides jobs to six permanent workers on his farm. During harvesting and weeding seasons, he employs more than 20 casual staff to help him and his permanent staff.
2010 World Cup
"My business is growing and I am now supplying many restaurants in the Vaal area, as well as in Johannesburg. I also take some of my produce to the Johannesburg Fresh Produce Market at City Deep," Smith said.
He believes the demand for fresh produce will increase with the Confederations Cup this year and the World Cup in 2010. "Many people from all over the world will be visiting our country, which will bring in more money," he said.
- Mbulelo Baloyi