The Department of Defence is looking for young people to join them. Through the Military Skills Development System (MSDS), the department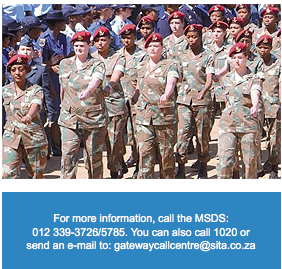 wants to ensure that the youth benefit from career opportunities in the Defence Force. The system is targeting South African youth who got good marks at school, but cannot afford further studies. They also target young people who have completed their studies, but cannot find jobs.
Scarce skills professions
The Skills Development System is doing a nation-wide marketing tour. The aim is to attract talented young people into the scarce skills professions in the Defence Force. These include pilots, engineers, professional health workers, naval combat officers, airspace controllers and technicians
They will recruit matriculants who are younger than 22 years. People who have completed university degrees or diplomas and are younger than 26 years are also welcome to apply for the jobs. Youth who want to apply are advised to attend the recruitment tours in their areas. To be considered, you must have certified copies of the following documents:
identity document (ID)
matric certificate
university degree or diploma (if you are a graduate).
A head start
The recruitment drive is part of a plan to get new skills into the Defence Force. At the same time it is giving the youth of the country a head start in life by providing them with opportunities.
Since 2003, the SANDF has recruited and trained over 23 000 youths, of whom 12 000 have been appointed in the regular services. More than 5 000 jobs are also available in the reserve service.