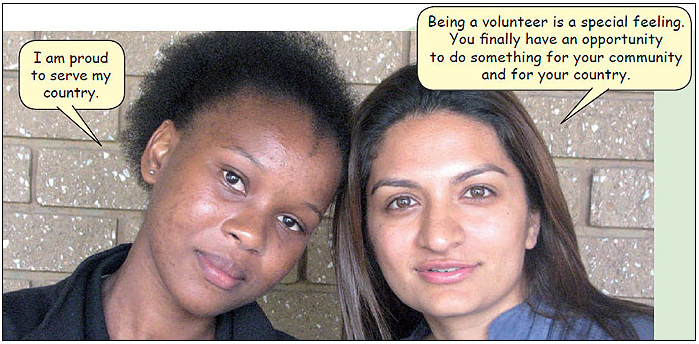 Thousands of eager, dedicated and proudly South African youths have been chosen as volunteers for the 2009 Confederations Cup. For Keoagile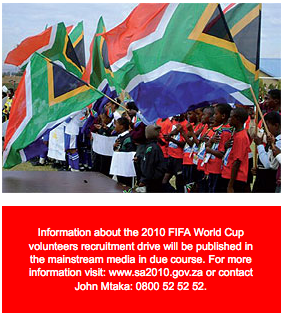 Moichela (left) and Shabnam Joosub (right) volunteering is more than just an opportunity to meet new people and make new friends.
Shabnam Joosub (27) and Keoagile Moichela (21) from Johannesburg became friends on the first day of the volunteer training programme. They may not have much in common, but they are both passionate about their country and the African continent. Both want to help South Africa host one of the best FIFA Confederations Cups ever.
Do your best
Joosub is a full-time employee and MBA student in Johannesburg. She says it won't be an easy task to do her volunteer work and do other work as well, but she is up to it.
"When you do what you want to do, you do your best", she said. "My employer is allowing me to experience it because he feels that it will help me to develop as a person. I am taking two weeks off now for the training and I'll be taking more time during the tournament," she said.
A wonderful country
Joosub sees the opportunity to help South Africa host a successful tournament as a chance to interact with her community. She also wants to show the world that South Africa is a world-class country in Africa.
"Being a volunteer is a special feeling. You finally have an opportunity to do something for your community and for your country," she said. "We have such a wonderful country - I want to show the world that this is South Africa, a world-class place that they can come and enjoy."
Once-in-a-lifetime
Moichela, an unemployed youth from Johannesburg, believes that the opportunity to be a volunteer for the FIFA Confederations Cup will develop her skills, which will open doors for future employment opportunities.
"I am proud to serve my country," she said. "I love South Africa and when I heard that volunteers were being recruited I did not think twice. I knew that this was a once-in-a-lifetime opportunity to stand up and do something.
Develop skills
I am sure that through helping South Africa and the African continent host a successful tournament, I will be able to develop skills that will help me become employable in future," she said.
The way our young people responded to the volunteer programme is proof that South African youth are passionate about doing something for their country, Moichela said.
She believes the idea that South Africa's youth is carefree and clueless about what is happening in our country is not true. "I feel that the number of young people selected as volunteers is proof that when given a chance we do not disappoint," she said.
"I have no doubt that we will do our country proud by performing our volunteer duties to the best of our abilities."
Important event
The FIFA Confederations Cup has become an important event on the FIFA calendar. The 2009 tournament will feature South Africa and African champions Egypt, as well as the world champions Italy, European giants Spain, South American champions Brazil, Asian champions Iraq, CONCACAF champions United States and Oceania champions New Zealand.
Host cities
The tournament will be co-hosted by four South African cities. They are Johannesburg, Tshwane (Pretoria), Mangaung (Bloemfontein), and Rustenburg.
This will also be a chance for both fans and FIFA delegates to get a feeling for the stadiums which will be used for the 2010 World Cup.
The 2009 Confederations Cup will also be used to test South Africa's state of readiness to host the long-awaited 2010 World Cup.
Backbone of events
Volunteers have played an important role in helping South Africa host major events in the past. This includes the successful hosting of the preliminary for the 2010 FIFA World Cup and the 2009 FIFA Confederations Cup draws.
Manager of the Volunteer Programme, Onke Mjo, says volunteers will be the backbone of the FIFA events to be hosted in South Africa.
"These volunteers will truly be the face of the tournament. They will be the lifeblood of the events. We expect them to do their duties with pride and enthusiasm as they help visitors and locals during the tournaments," she said.
Part of history
For Shabnam Joosub and Keoagile Moichela, their time to be part of history has come.
For thousands of other hopeful volunteers who were not selected for the Confederations Cup, all is not lost. More volunteers will be needed for the FIFA World Cup in 2010.
- Simangaliso Zwane