Puleng Masheane and her two partners never thought that 11 years after buying a few one-day old chicks, their business would be a huge success.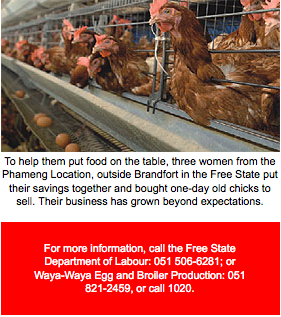 They started their business, Waya Waya Egg and Broiler Productions, in August 1998. "It grew so big that we are now 15 including 12 young people," Masheane said.
Land and funding
"Brandfort is very rural and there is not much going on in terms of business or manufacturing," she said. "So we decided that we had to do something ourselves to give us an income to support our families." They saw that there was a demand for cheap meat, especially chicken, and bought some day-old chicks.
To help them grow the business, the group went to the local municipality and the Free State Department of Agriculture for funding.
The municipality donated land and the Department of Agriculture funded the project with R1,2 million. The project has grown so big that it now supplies eggs to various big shops in Bloemfontein, as well as to the local community.
Skills training
The group also got help in the form of training in business skills from the Department of Labour. Training included broiler production, egg production and other skills relating to business development. "We are now able to talk to restaurants, bed and breakfast lodges and hotels to offer our products," Masheane said.
She said she was encouraged to see the involvement of young people in the project. She believes that this will make the business grow even more.
"I am also happy because there is a lot of skills transfer. Some of these young people may one day decide to start their own businesses. This would mean we would have achieved what we set out to do when we started this project," she said. Their main goal was to fight poverty while at the same time making money through getting the right skills.
World Cup
She said she was happy that the Free State Province and Bloemfontein in particular is one of the host cities for the 2010 World Cup.
"Thousands of soccer fans from around the world will be coming to watch soccer. They will stay at some of these hotels and lodges and they will have to eat breakfast. This is where Waya Waya comes in - anywhere in the world, eggs always form part of breakfast," said Masheane with a chuckle.
- Mbulelo Baloyi