Written by Samona Murugan
"Many of our people will now get much-needed assistance in the form of EPWP projects. Some of the work opportunities include repairing and maintenance of roads..."  - President Jacob Zuma, State of the Nation Address, 2011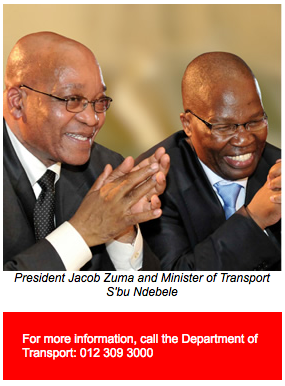 S'hamba Sonke - Moving Together is a massive job creation drive to fix, upgrade and maintain South Africa's entire secondary roads network. Launched by Transport Minister Sibusiso Ndebele earlier this year, the programme will create new opportunities for jobs and emerging contractors throughout the country. In partnership with all the provinces, it will repair potholes and improve access to schools, clinics and other social and economic opportunities.
The S'hamba Sonke - Moving Together programme is a new and innovative, nationwide drive to focus on the maintenance of secondary road infrastructure using labour-intensive methods of construction and maintenance. The programme sets out to create 70 000 jobs this year and a total of 400 000 jobs by 2014.
Government has set aside R22,3 billion for the project, broken down as follows: R6,4 billion in 2011/12, R7,5 billion in 2012/13 and R8,2 billion for 2013/14.
Zimbambele
"The jobs created during 2011 is a target in relation to the routine maintenance of roads and infrastructure in line with the Zibambele initiative," said Minister Ndebele.
Zibambele, which means "doing it ourselves", is a routine road maintenance project which started in KwaZulu-Natal, using labour intensive methods. It is contracted to a family or household, through a provincial department, to maintain a specific length of road on a part-time basis.
The national roll-out of Zibambele will form part of S'hamba Sonke - Moving Together.
International benchmark
Previously South Africa has invested mainly in the building of roads without striking a balance between maintenance and construction.
The international benchmark is a 60/40 split between maintenance and construction. Through programmes such as S'hamba Sonke - Moving Together, South Africa will be able to match the international benchmark.
Patching potholes
S'hamba Sonke includes a massive pothole-patching programme throughout the country. A national pothole hotline will also be launched for road users to report potholes anywhere.
This will help to arrest the decline of infrastructure while creating thousands of much-needed jobs.
Roads engineers
Roads engineers and superintendents will be deployed all over the roads network to deal with potholes and infrastructure maintenance.
This will include driving through stretches of road every morning to determine the condition of roads. Potholes will thus be identified and repaired before they become dangerous to motorists.