Written by Mbulelo Baloyi
South Africa is well-known for its excellent wines, which are mostly produced in the Western Cape. In future, however, when you enjoy a glass of wine with your meal, it could be produced from grapes grown in KwaZulu-Natal. A group of rural women in the province are blazing a trail in wine-making.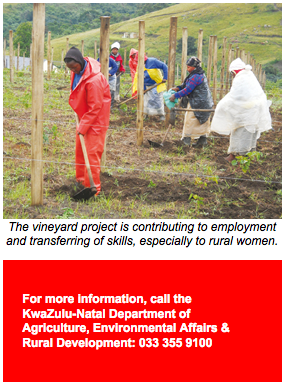 The growing of grapes and production of wine in KwaZulu-Natal follows an R8 million injection from the provincial Cooperative Governance and Traditional Affairs' Corridor Fund for a pilot vineyard project in the iLembe District Municipality on the North Coast.
With its seat in KwaDukuza (formerly Stanger), the iLembe District has four local municipalities under its wing. These are KwaDukuza Municipality (incorporating former Stanger, Ballito, Shaka's Rock, Zinkwazi), Mandeni Municipality, Ndwedwe Municipality and Maphumulo Municipality.
Wine infrastructure
The overall plan of the project is to further develop the infrastructure for the wine industry within the iLembe District by establishing a winery and its related operations. Called iLembe Vineyards, the project was proposed by The Stables Wine Estate to Enterprise iLembe, the district municipality's trade and investment promotion agency. The Stables Wine Estate, based in Nottingham Road in the Midlands, is the first wine estate in KZN and one of the newest wine regions in South Africa.
First crops
In September last year, the first crops were planted on 11 hectares in three sites in Maphumulo, KwaDukuza and Ndwedwe as part of the Phase 1 of the project.
About 70 permanent and 35 seasonal jobs have been created during Phase 1 of this project with more job opportunities expected as the project grows.
The aim of the iLembe Vineyards project is to plant and harvest vines with the intention of producing wine, brandy, juice and table grapes. 
The vineyards are expected to produce up to 25 tonnes per hectare of top quality grapes for producing selected products. The project will develop the Villard Blanc cultivar as a 'wine of origin' in iLembe' and so establish a brand for the region.
Community benefits
The Ilembe District municipality remains the owner of the project. Funding has been granted on the basis that the community will benefit and this benefit will grow through proposed community trusts on the project sites.
Workers' co-operatives benefit financially during the preparation and crop care stages.
"There is enormous potential for the wine industry in this province. Never before have all the elements been so perfectly poised to allow a new industry with such enormous benefits been perfectly aligned as we have currently in KwaZulu-Natal," said Judy van Niekerk of The Stables Wine Estate.
Growing demand
With international interest in KwaZulu-Natal because of the new King Shaka International Airport and the Dube Trade Port, there is growing demand for South African wines traditionally from the Cape and the new KwaZulu-Natal Wines.