Written by Sekgabo Kedijang
Youth matters
As part of its contribution to job creation, the National Youth Development Agency (NYDA) launched a programme to address the shortage of artisan skills particularly among youth. Recently, 100 young people who successfully completed the Accelerated Artisans and Skills Training Programme, were awarded certificates.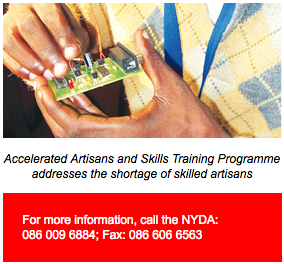 The NYDA skills training programme is aimed at disadvantaged unemployed young people between the ages of 16 and 35 who do not have skills to enter the job market. In addition to training, each learner will receive an allowance for meals and transport costs as part of the programme.
Courses
Courses offered within the programme include electrical engineering, plumbing, boiler making, welding, bricklaying carpentry, forklift, computer numerical control programming or air conditioning and refrigeration training at the following centres:
Mpumalanga: Tonga, Belfast, Machadosdorp, Delmas and Kwa-Mhlanga
Northern Cape: Kimberley
Gauteng: Ekurhuleni Artisan and Skills Training Centre in Kempton Park
North West: Tlhabane Technical Centre in Rustenburg
Self-employment
The programme encourages learners who have completed courses to create self-employment opportunities.
The NYDA will provide the following financial and non-financial support programmes and services:
The Enterprise Finance Division offers loans ranging from R1 000 to R5 million
The Business Consultancy Services Voucher Programme offers young entrepreneurs access to business development support services such as bookkeeping, marketing, tendering support, website development and more for just R200.
The Volunteer Mentorship Programme links up-and-coming entrepreneurs with established entrepreneurs.
The Business Opportunities Support Services section links young entrepreneurs to emerging procurement opportunities in the private and public sectors.
Encourage women
One of the programme participants, Tebogo Madigage, studied electrical engineering. Upon completion she registered with the NYDA's Jobs and Opportunities Database.
"I was happy when the NYDA called me to come through for the assessment. I enjoyed the programme and would like to encourage more women to explore a career in the electrical sector as it still male dominated," she said.