Winning letter - Respect your job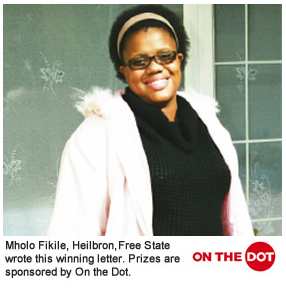 My heart bleeds when I see our brothers and sisters neglecting their jobs. People tend to forget what motivated them to apply for a job in the first place and when they are employed everything seems to be forgotten. It seems that when they enter the work environment, they don't care about their work. They tend to start neglecting their duties and concentrate on negative things, such as office gossip.
People should start changing their attitudes towards life. Many people don't have jobs, so I would like to encourage everyone who has a job, irrespective of whether it is permanent, part-time or a casual job, to hold on to that job and respect what you have.
- Mholo Fikile, Heilbron, Free State
We would like to hear from you




If any of the information published in Vuk'uzenzele has helped you in any way to improve your life, we would love to hear all about it. For example if Vuk'uzenzele has motivated or helped you to start your own business, getting a bursary or a job, please tell us how we have helped you. Don't forget to include your telephone or cellphone number and address.
Make Vuk'uzenzele more accessible
I am young and still trying to build a bright future, but without important information that comes out of Vuk'uzenzele, I think I wouldn't be able to build my future. I was surprised to see that inside this magazine there is a lot of important information that one could use, like, for example, for bursaries. So I think if you could make it more accessible to everyone, it will help more youth of this country to realise their dreams.
– Tshilo Ben Matsinyane, Botshabelo, Free State
Change or be changed
At the beginning of each year, people set goals, which some call "New Year's resolutions". Success has nothing to do with years. It is us who must change the years and not let the years change us. There are three groups of people; the first is the group of those who "make things happen", the second "watch things happen", and the third group "do not even know that there is anything happening". We must be the ones who will implement strategies of change in our lives and if there are no strategies we will fall into tragedy.
– Siphosihle Mzongwana, Brown's Farm, Western Cape.
No more rude taxi drivers
The bad boys of the road, taxi drivers, are to be reformed. Thanks to the Minister of Transport for giving the taxi associations a code of conduct for drivers, as well as passengers to improve the image of the taxi industry. Taxi drivers have always been unpopular with commuters and private motorists for reckless driving and being rude. Let us hope that the code of conduct will end fights between passengers and drivers and other motorists will enjoy driving.
– Emily Mathe, Sisulu Park, Free State
Hide your firearm
IIt is very important to hide your firearm, no matter who you are, unless you are on duty like a police officer, traffic police, correctional officers, SANDF or security officers. Use your firearm properly and hide it when you're off duty. Never show it off, because you can endanger your own life and that of other innocent people. Criminals need your firearm to destroy the nation. Let's help SAPS to take illegal firearms from criminals.
– Mfanafuthi Jele, Madadeni, KZN
Send your letters to:


Vuk'uzenzele, Private Bag X745, Pretoria, 0001, or e-mail: vukuzenzele@gcis.gov.za.


If you don't want your real name published you may use a different name, but please include your real name and address.

Please note:
To win a prize you must include a physical address and a contact telephone number.
Prizes that re not claimed within 90 days of publication, will be forfeited.