Written by Mbulelo Baloyi
The KwaZulu-Natal Department of Community Safety and Liaison is stepping up its fight against crime. The Building a United Front Against Crime programme aims to fight crime within communities by involving individuals and community leaders. The department will drive this programme as a priority for the next four years.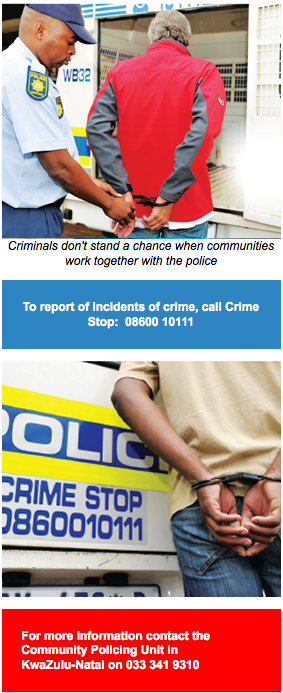 Safety and security has been identified as one of government's key priorities. To strengthen the fight against crime, government is combining different methods of preventing and reducing crime.  
Take responsibility
The purpose of the Building a United Front Against Crime programme is to raise awareness about the role that each individual can play within a community. The programme encourages people to work with government in its efforts to ensure crime-free, safe communities throughout the country.
Many criminals live in homes within communities. They work, go to school and operate criminally in these very same communities. The project helps communities root out criminal activities by encouraging people to take responsibility.
Report criminal activities
Community members should be aware of what is going on around them and should report criminal activities within their communities instead of ignoring them.
The programme has implemented Community Policing Forums (CPFs) in all community districts, as well as established community safety forums.
If residents, schools, community and religious organisations work together and communicate with their local police units, criminals won't stand a chance within united communities.
Volunteer jobs
The programme also increases community participation and has created safe recreational facilities within communities. It has also created job opportunities for volunteers and CPF members.