Written by Samona Murugan and BuaNews
South Africa is still one of the countries in the world with the highest incidence of TB. This is made worse by the high rate of people who are infected with HIV. HIV weakens the immune system, which increases the risk of TB.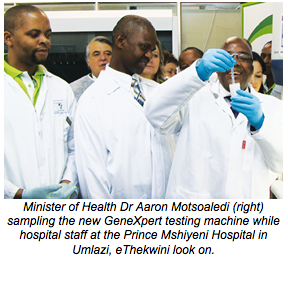 Tuberculosis patients in KwaZulu-Natal will no longer have to wait three weeks for TB test results. Government recently unveiled new TB testing equipment called the GeneXpert. Currently, it takes at least three weeks to confirm the results of TB tests, but the new machine will make results available within two hours.
An unveiling ceremony of the GeneXpert was held at the Prince Mshiyeni Hospital in Umlazi, south of Durban, recently. Health Minister Dr Aaron Motsoaledi urged all South Africans to work together with the department to ensure that the country's TB burden is reduced. This new technology will assist the department in reducing the time patients have to wait before getting their results. The new technology is one of only five such machines in the whole world. The department is currently working on a national roll-out plan that will see more of these machines being distributed.
The first GeneXpert has been launched in eThekwini, KwaZulu-Natal because the district has the highest number of TB cases in the country. In addition to the new roll-out plan the department is also building public awareness with the "Kick TB Campaign" which aims to involve learners in the fight against TB and promote healthy lifestyles.