Written by Samona Murugan
Tribute
A heroine and a dignified leader of the struggle against apartheid. This is how some have described the late Albertina Sisulu who passed away at her home in Linden, Johannesburg on 2 June 2011.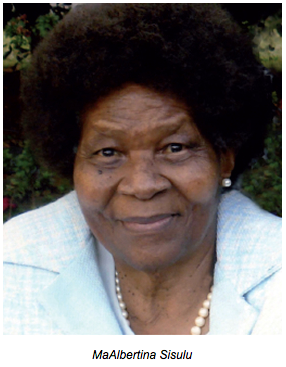 Sisulu, who was also described as a mother of the nation, was affectionately known as MaSisulu. Leading from the front, she dedicated her life to the struggle for the liberation of her people and did so by displaying discipline, honesty, dedication and humility.
During her lifetime she endured decades of mistreatment at the hands of the apartheid government, including police harassment, detention, banning orders, the imprisonment of her equally renowned and charismatic husband, Walter, and the exile of her children.
Official funeral
Mourners from all sectors of society, including President Jacob Zuma, ANC struggle veteran Winnie Madikizela Mandela, Gauteng Premier Nomvula Mokonyane, Minister in the Presidency Collins Chabane, foreign dignitaries, former presidents and heads of government and religious leaders joined scores of people who attended her memorial service at the Orlando Stadium in Soweto. Many from the nursing profession also came to pay their last respects to MaSisulu, who spent most of her life as a health professional.
MaSisulu was honoured with an official funeral, with her coffin wrapped in the South African flag and the military saluting her.
Outstanding Leadership
In his tribute, President Zuma said MaSisulu would be remembered for her outstanding leadership and unifying spirit. "We are paying tribute today not only to the wife of our leader, Isithwalandwe Walter Sisulu; she was a leader in her own right."
When the ANC spoke of the organisation's selfless struggle, MaSisulu's name stood out as a shining example, said the President. He added that many senior ANC leaders in government, politics and business had matured under her guidance, care and love. "She was their mother and their pillar of strength.."
Very few people have served their country and people with the same dedication, commitment, sacrifice, loyalty, respect, selflessness and patriotism as Mama Sisulu and few can hope to attract such an outpouring of love nationwide, the President said.
Max Sisulu, MaSisulu's eldest son and Speaker of the National Assembly, said his mother had a way of making all her children feel special. "She was a mother, a political mentor to many activists. During her lifetime, Mama touched and shaped many lives beyond the ANC.," he said.
Pillar of strength
Former President Nelson Mandela described MaSisulu as his pillar of strength during apartheid. "It is difficult and saddening to see you go my sister, you are more than a comrade; you are part of my being. Instead of me comforting your children, they had to comfort me over the last couple of days. Much has been said about your life and work. You are indeed one of the greatest South Africans, you right earned to be the mother of all our people."
MaSisulu is survived by seven children. She was laid to rest next to her husband, ANC leader Walter Sisulu, at Croesus cemetery in Johannesburg.
 
In her own right
Through her marriage to Walter Sisulu, MaSisulu became politically active in her own right, attending with him the founding discussions of the Youth League. They were married in July 1944, and settled in the cinder block house in Orlando, Soweto, which would be their home for 45 years.
MaSisulu also played a leading role in the historic Women's March to the Union Buildings in 1956 when 20 000 women protested against the oppressive pass laws.
During the period 1979 to 1981, she recruited a group of young women and directed them to revive the Federation of South African Women.
In 1994 she was elected to South Africa's first democratic Parliament, where she served until retiring four years later. She was a deputy president of the ANC Women's League, nurse and midwife, and took part in the formation of the United Democratic Front and the launch of the Freedom Charter.