Written by Mbulelo Baloyi
Presidential Hotline
Ordinary citizens continue to get help from the Presidential Hotline in solving problems experienced when dealing with different levels of government. People who have tried but failed through other channels, are welcome to turn to the Presidential Hotline.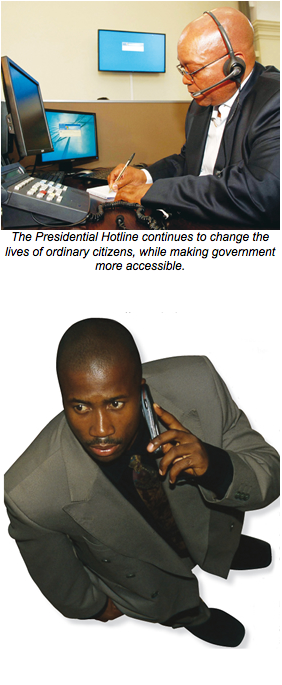 Ms Moyeni of Eastern Cape is one of the people whose problem was solved after turning to the Presidential Hotline for help. She had tried other channels without success. In August last year, Moyeni called the hotline after her mother's old-age grant was stopped. She was told that she had to make a new application.
New application
In November last year, her mother did re-apply for the grant and was promised that the grant would be continued.
However, months passed and Moyeni's mother did not receive her old-age grant. South African Social Security Agency (Sassa) officials in Bhisho said she would be paid in January this year but that did not happen. When the Moyeni family enquired about the delay in the payment of the old-age grant, Sassa officials told them that the grant had been stopped because Sassa thought the beneficiary (Moyeni's mother) had died. Presidential Hotline staff made further enquiries and it was confirmed that Moyeni's mother was still alive.
In February this year, Moyeni's mother was paid R6 480 for the months that she had not been receiving her grant since August last year. In March, she began receiving her regular monthly old-age grant of R1 080.
Unemployment fund
Another caller approached the Presidential Hotline after she had struggled to get her late father's contribution to the Unemployment Insurance Fund (UIF). Her father had claimed UIF in 2008 and while waiting the outcome of his application, he passed away.
She followed up her father's UIF claim but was told that the document she had signed was incorrect and she had to fill a new form in 2009.  On investigation, the Presidential Hotline found that her father's UIF claim had been approved in June 2008. However by March 2010, her father's UIF contribution had not been paid. In March 2010, she was requested to produce her father's salary advice (payment slip) but still no payment was received. After the Presidential Hotline followed up the matter, the UIF said payment would be made in March this year.
Sewage
A resident of the Free State town of Clocolane Ms Sebolelo Motseki also called the Presidential Hotline to complain about the local municipality's failure to regularly collect full sewage buckets. Her area still uses the bucket toilet system.
Motseki went to the Municipal Manager's office to complain about the uncollected full sewege buckets. Officials at the Municipal Manager's office had told her the truck that collected the wastewater refuse buckets had broken down.
A few days after reporting the matter to the Presidential Hotline, Motseki said municipal workers came to collect the wastewater refuse buckets.
Water and electricity
Another caller to the Hotline Mr Moeketsi Mphale of Nyarel informal settlement in the Naledi Municipality in the Free State called to complain for not getting water and electricity.
Mphale said he had been promised water and electricity and a better place but that did not happen. Mphale is disabled with one leg amputated and he struggles to fetch water from neighbours.
Since the matter was reported to the Hotline, the Naledi Municipality has installed water and electricity for Mphale. His application for a formal house is also being attended to.
DID YOU KNOW?
The National AIDS Helpline – 0800 012 322 – provides a confidential, anonymous 24-hour toll-free telephone counselling, information and referral service for those infected and affected by HIV and AIDS.
The AIDS Helpline was initiated in 1991 and is a partnership of the Department of Health and LifeLine Southern Africa.
The Helpline, staffed by trained lay counsellors, receives an average of 3 000 calls per day, and is seen as a leading telephone counselling service with-in the SADC region
First provincial hotline launche
d
Following the example of the Presidential Hotline, the Limpopo Provincial Government has launched its own hotline in the Office of the Premier.
Premier Cassel Mathale officially launched the hotline in April making Limpopo the first province to offer a regional hotline.
Mathale said the toll-free hotline was available to all people in the province.
Arrangements have been made to accommodate the following official languages: Sepedi, English, IsiNdebele, Tshivenda, SiSwati, XiTshonga and Afrikaans.
 
The Limpopo Premier's toll-free Hotline number is: 0800 864 729.
Presidential Hotline number:
17737 (1 PRES),
Fax: 086 681 0987 / 012 323 8246;
e-mail:
president@po.gov.za