Written by Thalia Anderson, Department of Health
Nurses are at the heart of the country's health system and play an important role in delivering an effective healthcare service. There is growing public concern in about the declining quality of healthcare, particularly nursing in the country. By uplifting and revitalising the nursing profession it will be possible to increase the population's life expectancy, reduce the deaths of mothers and babies, decrease the spread of HIV/AIDS and TB, and improve the health system.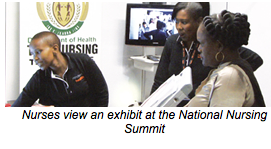 In April, the Minister of Health, Dr Aaron Motsoaledi, hosted a National Nursing Summit to address these issues early. President Jacob Zuma delivered the keynote address to over 2 000 nurses and stakeholders and called the summit "a moment of renewal for the nursing profession". The summit discussed ways to improve the nursing profession and resulted in a Nursing Compact, which will help to restore the dignity and professionalism of nurses. The compact will focus on improving service delivery, especially at primary healthcare level, through standardising the education and training of nurses, improving assistance to nursing students (funding, accommodation, improved learning environments), elevating public nursing education and training institutions to the level of higher education institutions, and improving clinical facilities.
Other issues that will be addressed are practical nursing experience, the nurses' pledge, attitudes, financial incentives, alignment of salaries, recognition of prior learning, career development, nursing agencies, filling of vacant posts and a return to the standardised white uniform