Written by Samona Murugan
The Community Work Programme (CWP) is aimed at uplifting communities by tackling poverty and unemployment. The programme helps individuals and families to earn an income by providing employment opportunities. The primary purpose of the CWP is to create access to a minimum level of regular and predictable work opportunities for unemployed people. It targets areas of high unemployment, where sustainable opportunities are likely to remain limited for some time.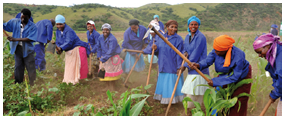 The CWP is an ongoing programme that does not replace government's existing social grants, but supplements it.
The CWP, which is run by the Department of Cooperative Governance and traditional Affairs (CoGTA), is meant as a safety net for unemployed people, not an employment solution. It aims to strengthen community development and to improve the quality of life in poor areas. Unemployed and underemployed people of working age qualify to participate. They are paid a daily rate of R60 per day and work for only two days a week, eight days a month and 100 days a year.
The programme runs in all nine provinces, 45 municipalities and 417 wards. From April 2010 to March 2011, 89 689 work opportunities have been created throughout the country through the CWP. It is intended to be ongoing with participants moving in and out of the programme as their needs change.
Useful work
The CWP is community driven with communities being actively involved in identifying 'useful work' needed in their areas. This means the work must improve the quality of life in poor communities by helping to create and maintain community assets and developing services. It includes a mix of activities such as home-based care, food gardens, environmental services, and the creation and maintenance of public facilities such as parks, water tanks and roads.
 
Beekeeping creates a hive of activity...
The African Honey Bee project, a job-creation initiative in Mpumalanga's Bushbuckridge area, aims to equip and empower 500 beekeepers in the area. While the programme is in the start-up phase the beekeepers receive a daily allowance from government's Community Work Programme (CWP).
African Honey Bee was involved in five pilot projects in other parts of the country before deciding on Bushbuckridge as the ideal spot to launch the full five-phase programme.
Training
The beekeepers will have their own businesses rather than being part of a collective system. They will receive training, mentorship, advance payment on their future honey production, equipment at special prices and access to global and local markets for their produce.
African Honey Bee and their training partner, Skills for Africa, are confident that further development funding will become available to ensure that the first group of 100 beekeepers will reach their production target of 200 tonnes of honey within 36 months.
Environment
With its emphasis on environmentally friendly job creation in one of the province's poorest regions, the beekeeping project is widely supported by the local community, the agricultural sector and development funders.
The Mpumalanga provincial government also supports the programme as part of its rural poverty alleviation programme. "The province is 100 per cent behind the initiative," says Ms Mungi Ramabenyane, Chief Director of the Department of Agriculture, Rural Development and Land Administration.
For more information about the CWP, Call 012 334 0600