Government has put in place a number of initiatives to ease the burden of fees on poor students who wish to study at tertiary institutions. One of the biggest initiatives is the National Student Financial Aid Scheme (NSFAS).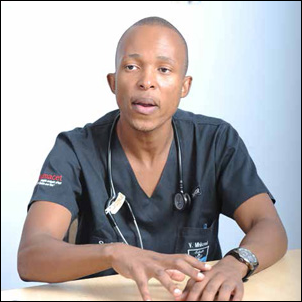 According to the Twenty Year Review released by the Presidency, "Between 1994 and 2012, approximately 1 million university beneficiaries received National Student Funding Assistance Scheme loans and bursaries worth approximately R30 billion".
One such beneficiary is Vuyane Mhlomi, who is now a medical doctor. Growing up in a single-parent home in Khayelitsha, his dreams of studying medicine were always clouded by concerns over whether his family could afford it. However, through NSFAS, Mhlomi was able to study at the University of Cape Town and achieved his dream of becoming a doctor.
"The ultimate indicator of my achievement and success was the ability to study towards the career of my choice and through it I created positive changes in my community. Without financial barriers I've been able to reach my full potential and I have had the opportunity to meet and work with some of the leading minds in the world. I shudder to think that a little over 20 years ago equally talented people were denied the opportunity of higher education due to a lack of financial support."
Like Mhlomi, thousands of students hoping to study at any of the 25 public universities and 50 public FET colleges throughout the country, now have opportunity to realise their dreams.
Lack of funding was also an issue for Cynthia August, the first ever student to receive NSFAS support in 1992.
"Many young people out there are not aware of how much NSFAS does for students who need financial assistance to help achieve their goals. I believe that if it was not for NSFAS I would have not become who and what I am today," she says.
August obtained her Teaching Degree in 1994 from the University of Fort Hare and went onto to become the head of department at Hankey Secondary School in the Eastern Cape. Today she is also a counsellor for youth, education and gender affairs at the Gamtobaqua Khoi-San Council.
According to NSFAS, funding for students grew from R441 million in 1999 to R8.5 billion in 2013.
Another milestone for NSFAS was the introduction of the Final Year Programme in 2011, which ensures that students have their final-year loans converted into a 100 per cent bursary if they pass their final year courses and qualify to graduate. Through this programme government pledged R851 million, which will benefit 28 464 students. It encourages students to focus on graduating without worrying about repaying their entire loans and allows them to start working to repay the loans quicker and help other students who also need financial aid.