Written by Chris Bathembu
When Samuel Kubayi arrived in Johannesburg in 1996 from the Eastern Cape, his goal was to find a job in the City of Gold and build a proper home for his family.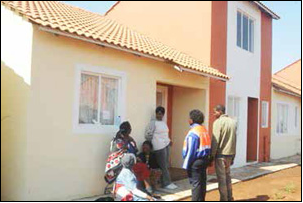 After struggling to raise enough money to build a house, he rented a backroom at a friend's house in Protea South, Soweto. This would be his home for more than 15 years.
Kubayi's situation changed when he received a letter in 2011 telling him that he would soon own a house in a 24 000 mixed income housing development, situated west of Dobsonville, Gauteng. By then, he had been on the housing waiting list for 14 years. He is now the proud owner of a two-bedroom house with his own bathroom, which has a shower, bath, basin and toilet. He enjoys warm water from the government-sponsored solar geyser installed at his home. Schools, clinics and recreational facilities are all less than a kilometre from his home.
Kubayi is one of the millions of South Africans who have benefited from the houses built by government over the past two decades.
According to the Twenty Year Review released by the Presidency, since 1994 the democratic government has delivered approximately 3.7 million subsidised housing opportunities for the very poor, giving a home to approximately 12.5 million people.
The review notes that when the new government came into power two decades ago, the housing backlog in South Africa was estimated at 1.2 million houses. The 1996 Census showed that 1.5 million households lived in informal houses in urban areas. In 1994, authorities also inherited a practice where housing was delivered through a fragmented system of some 14 race and ethnicity-based administrations into separate racial areas.
Opportunities for blacks to purchase and own land were limited. This created a highly distorted property market, with a functioning housing market for a white minority and a series of public rental housing "black ghettoes" for blacks in urban areas. There was no proper housing in rural areas.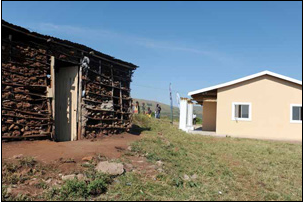 Black housing conditions were characterised by overcrowding of the existing public housing, limited new affordable housing, high private rentals and deteriorating municipal services. The system left people like Kubayi, who emigrated from rural areas to find jobs in the city, with no other option but to become backyard dwellers. Others found themselves building shacks in growing illegal informal settlements, which rapidly spread out on the outskirts of major cities.
To lessen the burden on government's lowcost housing system, also known in township terms as 'RDP houses', government introduced other methods, including the Social Housing Programme (SHP).
The SHP has so far delivered an estimated 50 000 new housing opportunities for many low and moderate-income households. Most of these developments are found in major economic cities like Johannesburg and Cape Town. An example of a SPH-inspired mixed housing is the Lufhereng housing development, which was unveiled in Johannesburg in 2012.
The development, like similar ones across the country, has been designed to make owning houses possible for people like Kubayi, who struggle to get finance from banks because of low income.
Lufhereng was conceived by the City of Johannesburg and the Gauteng Department of Local Government and Housing as a large scale, mixed-income and mixed-type housing development. It falls under the Mixed Housing Development Programme, designed under the National Housing Strategy's Breaking New Ground policy, which has been endorsed by national government.
Once fully complete, the development is expected to yield 24 000 houses.
According to city officials, the project included a significant component of urban agriculture, through small-scale intensive urban agriculture open-field plots, hydroponic farming units and fish breeding schemes.
Children will be able to attend school starting from primary up to high school at Lufhereng. "This is home for me. Gone are the days where you will just have a house and then there is no nearby school for children. Everything will be here for them," says 44-year-old Kubayi.
His neighbour, 68-year-old pensioner Elijah Bulana, grows vegetables in his garden and every Monday walks to a nearby clinic to collect his medication for high-blood pressure. Bulana says he enjoys living in a place where he is surrounded by everything he needs.
Studies show that the quality of RDP houses has greatly improved over the past 10 years as the Department of Human Settlements shifted its focus from quantity to quality. The shift from housing to pay more emphasis to human settlements is said to be promoting the symbol of a family home, a place of belonging and with it the comfort of knowing that one is a full citizen.
The delivery of 5 677 614 formal houses by government and the private sector resulted in a shift in the number of people living in formal housing from 64 per cent in 1996 to 77.7 per cent in 2011.
The formal housing market has increased in value from R321 billion in 1994 to a collective value of about R4.036 trillion by 2014.
The achievements in housing over the past 20 years have been significant.
"The estimated value of the state-subsidised housing market is about R300 billion. This represents a threefold increase in the value of investments by the state since 1994, as a result of increasing property values," the review adds.