Written by Noluthando Mkhize and SAnews
Government's School Nutrition Programme is feeding millions of children across the country and helping ensure they attend class regularly.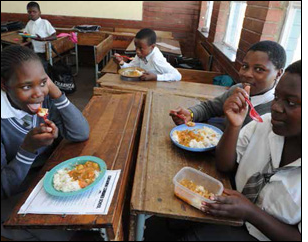 "By providing children with meals at school, the National School Nutrition Programme has contributed to regular and punctual attendance by learners and enabled them to attend school without being hungry," says the Twenty Year Review released by the Presidency.
By 2012, about 9 million learners in 20 905 primary and secondary schools – virtually all the learners from poor households – were receiving a government-funded school lunch.
And it is not only children who are benefiting from the School Nutrition Programme. It has also given Joyce Moshwela, of Slurry in the North West, a job.
Moshwela cooks for the children of Onkgopotse Tiro Comprehensive School, who are beneficiaries of the School Nutrition Programme.
The school, which caters for Grades 1 to 12, is a no-fee school. "I think government is doing a good thing by ensuring that children receive food at school.
It helps the child to concentrate as they do not concentrate for long when they are hungry," she said.
Moshwela is also grateful that government introduced the programme because it has provided her with a livelihood.
"I was unemployed for months until this opportunity came along. Not only do I have a job but I am also contributing to the upliftment of my community."
Apart from the School Nutrition Programme, government also introduced the Integrated School Health Programme (ISHP).
The ISHP was launched by President Jacob Zuma in 2012 and provides essential health services to thousands of pupils especially in the country's poorest schools.
Government also introduced the Human Papilloma Virus (HPV) vaccine at schools in March to reduce incidence of cervical cancer.
Fifty-four learners, aged between nine and 10 years, from Gonyane Primary School in Bloemfontein were among the first group of girls to get vaccinated against HPV. The target is to vaccinate about half a million girls against the virus for free.
Administered in private health institutions, the vaccine costs between R700 - R1 000.
"About 130 countries across the globe are vaccinating young girls for HPV. So far, about 170 million children have been vaccinated worldwide and I am proud to say the number has increased by 54 today," said Minister Aaron Motsoaledi.
Three thousand health workers have been trained to work in the HPV vaccine programme in the country.
About 16 million women over the age of 15 are at risk of cervical cancer in South Africa. The Department of Health aims to reduce cervical cancer related deaths gradually within the next two to three decades through the vaccine programme.