Six months after joining the Eco Furniture project - a job creation initiative that produces eco-friendly furniture - Gugu Mbhele's life has changed for the better.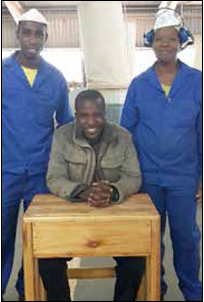 Worries about placing food on the table and her children's school fees no longer fall on the shoulders of her husband, who was the family's breadwinner for many years.
"It makes me very proud. As a woman I can now do these things for my family. I now help buy clothes and groceries and our lives are so much better," says the 32-year old.
Mbhele is one of the 90 employees working at the Eco Furniture factory in Durban. The Expanded Public Works Programme (EPWP) project is funded the Department of Environmental Affairs, with the South African National Parks (SANParks) as the implementing agency.
As part of the project, invasive alien vegetation - trees that extract excessive water – are cut down. The trees are then processed into planks that are sanded down and turned into products such as school desks and coffins, for government.
"I am so proud of the work I do. I am making furniture that will help children learn and improve their education. One day my children may even use the desks I make so I am making a big difference to the country with my work," said Mbhele.
Since the project began, employees like Mbhele, from the surrounding villages of Clermont and Kwadabeka now have a chance at a better life. Sipho Mavundla, 29, has been working at the factory since 2011 and says the project gave him a new lease on life.
"I could not find a job before so I was at home trying to make ends meet. Now I take care of myself and my family and I am able to learn skills I can use for life."
Project supervisor Sandile Motaung, who joined the project when it began, says when people see him, they see wood. "This job has become such a part of me. Together with government we are killing three birds with one stone - we are creating jobs for our people, helping the environment by getting rid of alien vegetation and improving the way children are educated."
The factory in Durban is one of five Eco Furniture factories opened across the country.
To date the factory has manufactured over 6 000 desks which have been delivered to schools across the country. Boitumelo High School in the Free State is one of the recipients of the desks.
Principal Mhlophe Mkhosana says when he joined the school in 2012, classrooms had been vandalised and most of the furniture was broken.
"I am very grateful and there have been positive changes in the school since the new desk donation," said Mkhosana.
Learners at the school are also grateful for the desks.
"I will keep my desk clean at all times to make sure that learners who come after me have a desk that is in good shape," said Motsiri Mampai.