Written by Noluthando Mkhize
Increasing the police budget, launching a Police Academy and intensifying crime-fighting efforts are some of government's efforts to strengthen police.
According to the 20 Year Review, before 1994, the police's primary focus was upholding the apartheid state.
"The resulting in highly centralised, para-militarised and authoritarian police service concentrated its efforts and resources on eliminating opposition to the apartheid system," the report notes.
By 1994, levels of crime and insecurity had increased dramatically in the absence of effective crime prevention and investigative policing services. Between 1983 and 1992, the murder rate increased by 135 per cent, robbery by 109 per cent, housebreaking by 71 per cent, car theft by 64 per cent and rape by 62 per cent.
In order to tackle the high levels of crime, under the democratic government, more skills and police officers were needed. Under democracy, funds allocated for the police to function have increased significantly.
The police budget jumped from about R6 billion in 1994 to R63 billion in 2013.
According to the review, overall reported crime rate remained stable between 1994 and 1998 before peaking in 2003 and then declining after 2003.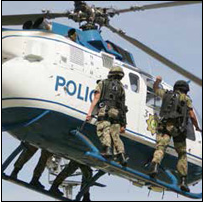 The intensity of serious crimes changed be twee n 1994/95 and 2012/13.
"Reduced crime levels after 2003/04 could be attributed to an increase in visible policing and improved crime-combating initiatives, which were part of the National Crime Prevention Strategy. Improvements in conviction rates and the imposition of harsher sentences could also have acted as disincentives," it adds.
While progress has been made in achieving a more efficient criminal justice system, the review acknowledges that more needs to be done.
"Since 1994, crime detection rates have generally improved. For example, the crime detection rate for contact crimes improved from 39.5 per cent in 2001/02 to 60.7 per cent in 2011/12.
"However, a 60.7 per cent detection rate still means that many reported cases remain unresolved. This indicates that there is still much room for further improvement in detective and investigative capacity in the police force."
Several surveys have shown that citizens and communities are beginning to feel safer.
"The Victims of Crime Survey found that over 40 per cent of households felt the levels of violent and non-violent crime had decreased in their area of residence during the period 2008 to 2010.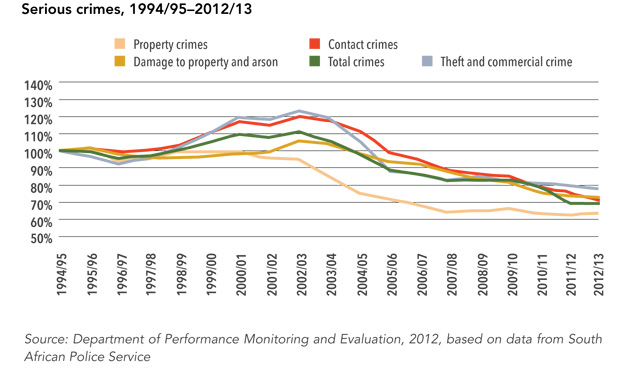 "Furthermore, about 60 per cent of households surveyed were satisfied with the way the police and courts are doing their work."
The South African Police Service is also on a drive to improve its image and professionalism among its ranks.
To help achieve this, Police Minister Nathi Mthethwa opened a Police Academy earlier this year.
The academy, in Paarl in the Western Cape, is a partnership between SAPS and the University of South Africa and currently has 120 students studying towards a Bachelor of Policing degree.
The academy aims to produce a new breed of police professionals equipped with the right theoretical and practical training that will help them to serve the country and its citizens diligently, efficiently and effectively.
"The academy needs to create a police service that is steeped in the values enshrined in our Constitution, that is ready to serve the citizens and is able to inspire the confidence of the ordinary person on the street. This is also underpinned in the five key priorities of the government's programme of action," said Minister Mthethwa.
The academy only enrols members of the SAPS who meet very strict admission requirements. Students are expected to achieve a minimum of 65 per cent to progress.
The students are being taught on a full time basis by experienced and internationally recognised staff.