Gone are the days when Tisetso Masilela, of Soweto, would have to put up with traffic on her way to work. Like many commuters f rom townships neighbouring big cities like Johannesburg, Pretoria and Durban, Masilela would arrive at work late as a result of the traffic congestion leading into the city centre.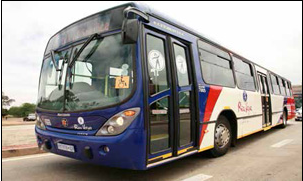 A Bus Rapid Transit system feasibility study was carried out in 2006, which noted the importance of building new infrastructure to ease traffic congestion in and around Johannesburg.
Work on the system started in 2009, with the aim of providing safe, affordable and reliable public transport.
With the construction of the Bus Rapid System (BRT) or Rea Vaya in Johannesburg, Masilela says getting to and from work is easy and less frustrating.
She has been using the BRT since 2011 and is happy with the service. "I find it reasonable. It's safe and saves time because the buses use their own lanes. It is also affordable," she says.
Living close to the bus station also saves Masilela from having to put up with a long walk in the mornings and evenings.
"I'm not far from the main station and there is a feeder station close to my house so I don't have any problems accessing the bus in the morning and afternoon," she adds.
Masilela says since it started, the service has improved. "BRT has now grown compared to when it started. There are more stations open as well as more buses and routes in place. There is a lot of improvement in terms of the routes."
The only challenge she has faced is poor communication between the commuters and the management of BRT.
"The staff need to update the commuters when the buses are delayed. I also think the drivers and other staff need to undergo some customer service training, Masilela adds.