Government has made great strides in creating jobs, uplifting communities and reducing poverty over the past 20 years.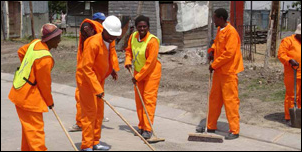 Since 1994, creating jobs has become a national priority and government departments, state-owned-enterprises and even the private sector have jumped on board. The social grant programme, introduction of minimum wage levels for workers who do earn a lot and government employment schemes have all helped fight poverty.
Flagship projects such as the Expanded Public Works Programme (EPWP), the Jobs Fund and New Growth Path were launched.
The EPWP is the national programme aimed at alleviating poverty and unemployment through work opportunities and skills development for poor, unskilled and unemployed South Africans.
According to the Twenty Year Review released by the Presidency, the programme has created over three million work opportunities across all its four sectors - infrastructure, environment and culture, social and non-state. From 2004 to 2009, 1.6 million jobs were created. The EPWP is on track to achieve its overall target of creating 4.5 million work opportunities by the end of 2014.
In 2011, R9 billion was also allocated to the Jobs Fund to finance job creation initiatives with a further R10 billion from the Industrial Development Corporation (IDC).
Small-scale sugar cane farmers in Mpumalanga recently benefited from the Jobs Fund. Thanks to a grant of R50 million, over 1 500 jobs have been created and the farmers are now able to increase production from 450 000 tons of cane a year to 850 000 tons.
Government's New Growth Path aims to create five million jobs by 2020 and bring South Africa's unemployment rate down to 15 per cent. At the launch of the New Growth Path, President Jacob Zuma highlighted government's goal. "We want to have a country where millions of South Africans have decent employment opportunities and a high quality of life," he said at the time.
Inequality
South Africa remains one of the most unequal countries in the world and inequalities in gender and race are still reflected in the labour force. According to the review, by 2001 incomes differed between men and women, with the average annual income of households headed by women around R27 864, compared to the R63 626 for households headed by men. By 2011, despite an increase in the average income for women, households headed by women earned less than half compared to men.
By 2012, the average income of an African household was under R3 000. For coloureds and Indians it was just over R7 000, while for whites it was around R20 000.
The past decade has seen the rise of the black middle class.
The review notes that there was a significant shift in the country's LSM (Living Standard Measure) distribution between 2001 and 2010.
LSM is a tool to group populations in terms of their living standards, based on the goods, services or luxuries available to them.
The ranking ranges from 1 (poorest living standards) to 10 (highest living standards).
Between 2001 and 2010, LSM 1-4 shrank by 4.6 million, LSM 5-6 increased by 5 million, and LSM 7-10 also grew by 4.7 million.
"Although inequality remains high, poverty levels have decreased. Studies conducted by the Economic Policy Research Institute, the Development Policy Research Unit and the Southern Africa Labour and Development Research Unit at the University of Cape Town all indicate a reduction in poverty levels since 1994," the review adds.
The reduction in poverty over the past two decades is an important milestone achieved by the democratic government.
"Despite the gains in overall poverty reduction, women, children and people with disabilities remain especially vulnerable to poverty," the review notes.