Further Education and Training (FET) college graduates have more opportunities to look forward to thanks to government initiatives.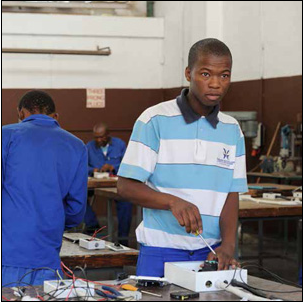 Recently the Department of Higher Education and Training (DHET) launched the Decade of the Artisan Campaign. The campaign aims to bridge the country's artisanry skills gap and produce 30000 qualified artisans per year by 2024.
Higher Education and Training Deputy Minister Mduduzi Manana said the country currently produces 12 000 artisans a year. In terms of the National Development Plan (NDP), South Africa needs to produce 30 000 artisans a year to help grow the economy and reduce poverty.
"We want to increase the current number by 1000 a year until we reach 30 000 artisans a year," said Deputy Minister Manana.
According to the Twenty Year Review, 3 430 artisans successfully completed trade tests between 2000 and 2006, while 6 030 artisans successfully completed trade tests between 2007 and 2008.
This number increased to 15 277 artisan qualifications during 2011/12 alone.
"Given the current shortage and growing demand for artisans, it is predicted that unless we take immediate action, artisanship will become an extremely scarce skill. The lack of artisans will also have a devastating impact on our economy down the line. Artisans play a crucial role in the delivery of services, especially in engineering trades," he added.
The campaign will also promote artisanry as a career of choice to South Africa's youth. More than 40 interactive community events will be held every three months at engineering campuses of FET colleges.
The Deputy Minister pointed out that artisanry was a great career choice as it almost guaranteed employment. To help FET graduates find job placement, the department recently launched the National Artisan Development Support Centre (NADSC). The centre currently focuses on linking graduates with work opportunities via employers in partnership with the Sector Education Training Authorities (Setas).
Food safety assistants
The Department of Tourism is also doing its bit to ensure that FET colleges graduates receives training and hands over job experience through the country's first Food Safety Programme.
As part of the programme, 100 graduates will be placed in participating hotels across the country as food safety assistants. They will be trained to monitor and assess food and food safety issues, such as how food is stored, handled and served. The training will take place over 12 months during which time participants will receive a monthly stipend.
The programme is an initiative of the Department of Tourism and Federated Hospitality Association of Southern Africa (Fedhasa), and the Department of Tourism. The pilot project will see 100 graduates chosen from FET colleges in Limpopo, Mpumalanga and KwaZulu-Natal. Graduates will be mentored and taught how to package and store food to meet local and international food standards.
According to Fedhasa's chairman Eddie Khosa, the programme is in support of government's initiatives.
"Government made it a priority to boost FET colleges as the institutions of choice. This is why we have decided to absorb FET graduates to create this new career path within the hospitality industry … Creating jobs is also a huge focus of Fedhasa and this allows us to build skills and to better the lives of youth who come from impoverished communities."
He said the programme would deliver sustainable jobs to the youth; jobs that were brand new in the industry and did not replace any existing positions.