Written by Ongezwa Manyathi
When Thuthiwe Rwexu appeared on a television programme that highlighted the plight of Second Creek residents, it was not only her living conditions that sent shivers down the spines of viewers.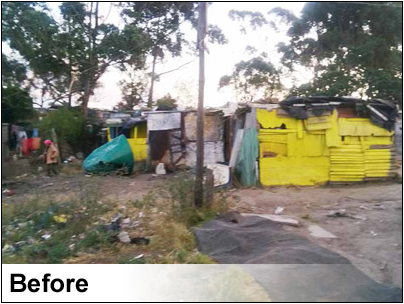 It was her explanation of how they survived that touched many South Africans. At the time she said: "I go to the dump site and dig there for food like bread. Sometimes it is full of maggots, which I shake off. We even eat rotten meat that we get from the dump site."
Back then the sound of a refuse truck making its way into Second Creek, East London signalled mealtime for residents.
Rwexu, 35, cannot remember how old she was when she moved to Second Creek but she grew up in the area. She and her family survived on what they could find at the disposal site.
It is now almost four years later and Rwexu, a mother of six, is a different person. She looks healthier, stronger and happier.
"Look at me – I've even gained some weight. I no longer eat rotten meat or cats. I can afford decent food like KFC," she said.
Rwexu is still waiting for her house and is living in a shack but she is part of the group that is next on the waiting list to receive houses.
Second Creek was for the longest time not only a dumping site but also an informal settlement and home to many. Settlements such as Second Creek were formed as a result of people leaving their rural homes and flocking to cities in search of a better life.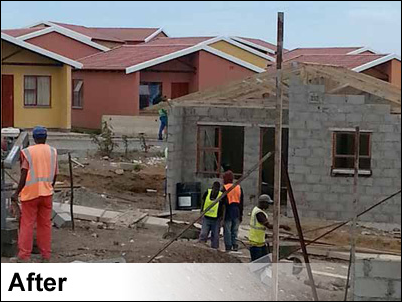 Some have lived here for more than 30 years.
"Many of the people who live in the area ran away from home, some arrived with their parents who were unsuccessful at finding work. They have no family and Second Creek is the only home they know," said Councillor Johannes Green.
When Green, who is responsible for ward 19, came into office the low-cost housing project was already underway.
The location itself is beautiful with a view of the river up to the harbour and is close to the city centre.
Before government intervened, there were almost 300 shacks in the area. There are now rows of colourful houses that residents can be proud of.
The Second Creek disposal site was cleared in 2009 and the construction of low-cost housing units started in 2013.
Today it is a huge construction site. Aside from the homes that are being built with running water, roads are being constructed and a substation was recently completed.
So far, more than 200 houses have been built and about 60 people are living in them.
"We've just built a substation and the installation of the towers that will supply electricity to Second Creek and surrounding areas will start soon," said Green.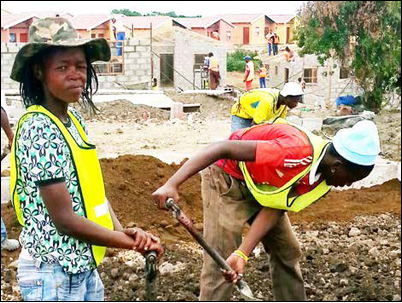 The houses are spacious with two bedrooms, an open plan kitchen and lounge, bathroom – complete with a bath, basin and toilet, and a veranda.
While many celebrate that government has given them shelter, some feel that their livelihood has been taken away from them and have moved to another dumping site called Berlin, also in East London.
"Before people even live in their houses, they rent them out and live in squalor. Our fear now is that more people are going to leave their houses and rent them out then move to the Berlin dump site. Then it makes it look like government is not doing anything for its people when it is," said Lastborn Diniso, a community development worker.
Measures are in place to ensure that once shacks have been demolished only houses are built in the area.
"We don't want any more shacks in the area," he said.
Diniso has been involved with the project from the early stages and helped residents get identity documents (IDs), which they needed to be placed on the beneficiaries list.
The housing project also created much needed employment for the people of Second Creek. Rwexu, for example, is now able to earn an income as a supervisor on the project – she started small and worked her way up.
Rwexu is happy that government has given the residents of Second Creek homes and that life is changing for the better.
"Life has changed, our living conditions are better and living in a cleaner environment has given us a break from the flies as well," she said.