Early Childhood Development (ECD) is one of the areas that government has prioritised since 1994.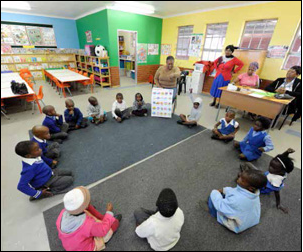 Through the Departments of Basic Education, Health, Social Development, and Women, Children and People with Disabilities, government ensures that young children are enrolled in Grade R or preschool, which are also known as ECD centres.
"ECD is critical for improving the results of learners in the education system," the Twenty Year Review released by the Presidency notes.
ECD is crucial to a child's development because it focuses on the stage when a child grows and flourishes mentally, socially and physically.
"Since 1994 there has been a significant increase in access to centre-based care ... It is estimated that over a million children under four years old are now in an ECD facility or some form of out-of-home care," according to the review.
Enrolment in Grade R (a pre-school year at primary school) has more than doubled, increasing from 300 000 to 705 000 between 2003 and 2011, nearly reaching the level of universal access. By 2012, 87.8 per cent of learners in Grade 1 in public schools had attended Grade R.
"This is a remarkable achievement, indicative of South Africa's investment in the foundation phase of education," the review adds.
Government has stressed that the first one thousand days or first four years of a child's life must be prioritised. This led to the establishment of the ECD programme, which was launched in July 2011.
One of the key elements of ECD highlighted by Social Development Minister Bathabile Dlamini recently, was the ECD subsidy of R15 per child per day. Currently, 467 000 children at 18 826 registered ECD centres are subsidised by government.
"The number of registered ECD facilities has also grown from 4 612 in the 2004 to over 21 000 by 2013," she said.
ECD has been recognised as a powerful tool in breaking the cycle of poverty and making a real and lasting difference in children's lives, the Minister added.
Government is committed to ensuring that every child, including those from poor backgrounds and with disabilities, has access to ECD at an early age.
While children benefit the most from ECD, the focus on it is also skilling teachers.
Bukeka Mandlantse runs Zizamele Educare, a preschool and aftercare centre in the Western Cape township of Khayelitsha. Mandlantse and her staff care for 50 children under the age of seven.
"I have always loved looking after children," says the mother of two, who started teaching to protect the children in her community.
"I noticed there were a lot of children playing on the streets and I wanted to make sure they were protected from harm, like abuse and kidnapping."
Mandlantse started working at Zizamele Educare in 2000 and was soon appointed principal. She then decided to register the school as an ECD facility, however faced a huge challenge. Like many other teachers in the area, she lacked a formal ECD qualification.
"I knew it was important to study but I could not afford it."
With the help of Sikhulu Sonke, a community-based organisation aimed at improving the quality of ECD education in Khayelitsha, she completed an ECD Level 4 learnership. She is now using the knowledge she gained to the run the centre and care for the children.
"I learnt how to create and fill in application letters and now 47 out of my 50 learners are subsidised by government."
Mandlantse urged other teachers to better themselves by gaining ECD qualifications, saying it would also improve the lives of the children they teach.