Written by Noluthando Mkhize
In 2004, Joseph Khosa left his job as an office worker at Hoxani College and started the Sasekisani Egg Production Cooperative with eight other people from the Mahonisi village, Mpumalanga.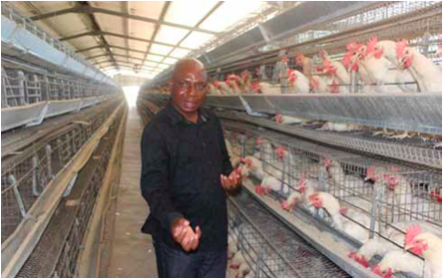 Khosa had noted that there were no suppliers to meet the growing demand for eggs in the area, so the group came together to form an egg producing business.
"When we started the cooperative we were working from a RDP house. We struggled to get information on running a business until we approached the Limpopo Department of Economic Development. They told us to go to the Limpopo Economic Development Agency (Leda) for business assistance," said Khosa.
The cooperative began with 116 egg laying chickens and within a year, Leda helped it with a business plan and funding to grow the cooperative. With that support, the cooperative constructed a layer house for the chickens, put in place water tanks, a power supply and bought more egg laying chickens to expand the cooperative.
Today, the cooperative has the capacity to house 19 000 chickens, but currently has 12 000 chickens.
"We supply to local businesses and our main client is Pick n Pay in Thohoyandou. We have come a long way in our business. We started with 116 chickens then increased 250, today we have 12 000 chickens."
Last year, the Department of Agriculture awarded the cooperative first prize for Best Operating Cooperative in the Country.
Khosa said the cooperative currently employs 14 permanent workers from the com- munity, while the other workers are those who started the cooperative.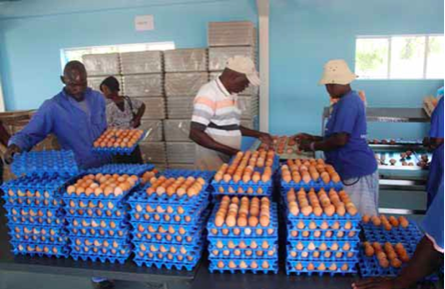 Farmworkers were employed to feed the chickens and clean the house.
Lounia Shirinda, 22, is one of those employed by the cooperative.
As a house assistant, her daily duties include looking after the chickens and feeding them.
"I would also like to start my own business one day because I know that through the business I'll be able to help reduce unemployment in my village. Being part of this cooperative has helped me. My aunt, who was the bread- winner, recently passed away and now I am able to support myself and my baby," said Shirinda.
Khosa said starting the cooperative was not easy. He reminded those who want to follow in his footsteps that it was important to comply with all the requirements to get funding.
"You also need to believe in yourself and your business. You will find yourself competing with big companies. It is important to be independent and to continuously work hard," he added.
For the Sasekisani Egg Production Cooperative there is still more hard work ahead. The company is looking to expand and are currently constructing a third chicken house.
Khosa said the cooperative wants to become one of the leading egg producers in the country.
Limpopo Economic Development Agency was formerly known as the Limpopo Business Support Agency.
For more information on Sasekisani Egg Production Cooperative go to www.saseggs.co.za For more information on Leda call 015 287 3000, email info@libsa.co.za or go to www.libsa.co.za to locate their 20 branch offices across Limpopo.