In South Africa thousands of children are abandoned, abused and orphaned every day.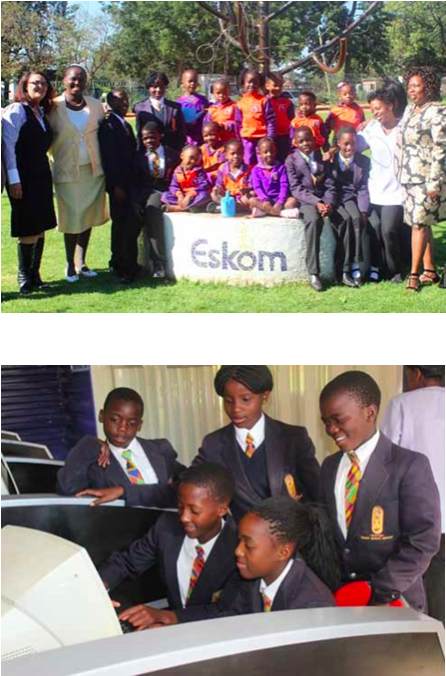 Communities are faced with an over- flow of children who have no homes or families to care for them. One such community is in Midrand, Gauteng, where some children have little hope for the future.
The answer to these children's prayers are sisters Anna and Phina Mojapelo, who are passionate about providing shelter and protection for children.
Anna is a lawyer, businesswoman and community developer, while Phina is a social worker who, for many years, has worked with children, youth and those with HIV/AIDS.
The safe haven they provide for children started in 2000, when Phina brought home a child who needed help. Today they care for 80 children at the New Jerusalem Children's Home, assisted by the Department of Social Development, the Eskom Development Foundation and donations from the public.
"It was our duty to build a home for the children and they have changed our lives forever," says Phina.
And while Eskom's primary job is to keep the lights on, the state-owned company also focuses on job creation, infrastructure development, skills training and community development through the non-profit Eskom Development Foundation, which is funded by the power utility.
"New Jerusalem is a remarkable organisation not just because of the good work it does in providing a safe and caring environment for the children in their care but because they have put sustainability at the heart of how they operate," says the foundation's CEO, Haylene Liberty.
Since its inception, the home has expanded and now includes a pre-school, primary school, day-care facilities and home for primary school children.
Volunteer and fundraiser Adrienne Feldner also played a hand in setting up the home, enlisting the help of several specialists who all donated their time and expertise to work on the project.
Architects Adam Kalkin, Sean Wall and Mia Anfield created a building made from 28 recycled containers and powered by solar panels to keep the construction, maintenance and running costs down. The entire house cost R2.2 million to build, with a further R320 000 for the solar water heating system and furniture, and is the first ever eco-friendly residential home the province.
With four small homes, each containing 12 children and a house mother, the sisters aim to build more container homes and take in more children in need.
The home and school is situated on an agricultural small holding that is not connected to the municipal sewage system. To remedy this, a domestic Biobox system was installed to convert all waste water from the kitchen, laundry, toilets and bathrooms into water for irrigation.
The home's eco-friendly status is something the founders and children who live there are equally proud of.
"It is important to recycle and take care of our environment because how we treat our land today, determines the type of environment we have tomorrow," says 13-year-old Siyabonga Masemola.
He arrived at the home when he was six and says he is blessed to have many caregivers as mothers.
Aurora Kwakwadi, 12, was brought to the home as a baby and says she loves school and wants to become a teacher. "I want to teach children how to read, write and think for them- selves so they become strong and independent people."
To contribute to the New Jerusalem Children's Home contact Anna Mojapelo on 010 224 0460 / 082 7327 832 or email amojapelo@hotmail.com