Written by Samona Murugan
Successful herb farming requires careful planning, close attention to detail, patience and the necessary skills to grow crisp and fresh herbs that consumers will grab from grocery shop fridges.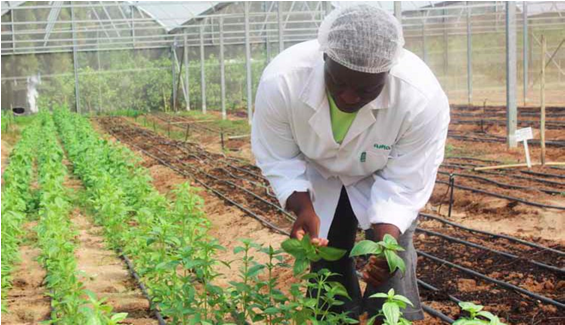 Without these skills, farmers could end up producing wilted and soggy herbs, causing their businesses to suffer and losing out on lots of money.
The Timbali Technology Incubator - a centre in Mpumalanga that was created with the help of the Small Enterprise Development Agency (Seda) and the Department of Agriculture, Forestry and Fisheries - helps young emerging farmers gain the skills needed to survive in the flower and herb industry.
Timbali was created to attract more youngsters into the farming field, said its CEO Louise de Klerk.
"We are facing a huge problem as a country, as the average age of a farmer in South Africa is 65. Youngsters are not getting into farming because it's not as exciting a field but we at Timbali have made farming exciting through our mentorship programmes," she explained.
Timbali helps hundreds of small-scale farmers through its Amaspice, Amaveg and Amab- lom projects, which supports farmers growing herbs, vegetables and flowers.
Despite the projects' success, farmers still faced seasonal problems such as their crops not lasting as long as they hoped it would.
What Timbali needed was a steamroller as well as storage facilities and fridges to keep the crops fresh for longer.
Previously, farmers used a chemical called methyl bromide to fertilise soil. However, over time this product was found to be dangerous to the environment and was eventually phased out.
It was found that a steamroller could be used to fertilise the soil. This was a much cheaper option and better for the environment.
The Eskom Development Foundation jumped on the bandwagon and donated the steamroller, making Timbali the leader in soil technology in the country. The steamroller eliminates soil pathogens, which are impurities in the earth, and makes the soil fertile for crops to grow. The foundation also donated a storage fridge for farmers to store and cool their crops, keeping them fresher for longer.
One of the project's supervisors is Nonhlanhla Mgwenya, who was the first farmer at the centre to start coriander and basil planting in 2006. Her day used to start at 4am when she would wake up to plough the fields, plant and prune the coriander plants.
With the storage fridges those early mornings are a thing of the past.
"My team and I no longer have to wake up early and cut crops before the sun rises. We can now spend more time with our families and have a better quality of life," said Mgwenya.
Mgwenya, who lives in the nearby Kabokweni village, joined Timbali as a citrus farmer.
"It was very hard to get a job. I am a mother of two children and it was hard to provide for them. Timbali took me in and gave me the skills and knowledge to change my life and the lives of others."
Today Mgwenya leads the Amaspice team as a supervisor and passes on her skills to youngsters joining the farming field. She ensures that all crops maintain the high standards of quality needed to supply to mega food franchise Woolworths.
With help from Timbali and Seda, emerging farmers are exposed to the climatic and infrastructure advantages of crop production in Mpumalanga.
"A new farmer faces many challenges upon entering the viciously competitive market. A good understanding of the agricultural trade, skill, knowledge and experience in crops are essential in an industry where quality is non- negotiable. This is how Timbali helped, with a unique concept that ensures that a high volume of good quality produce can be produced for both the local and export markets," said De Klerk.
Through the support of the Eskom Development Foundation, Timbali has become globally accredited, meaning it can export to international markets as the accreditation confirms confidence in the quality of its products.
To date, Timbali has helped more than 150 emerging young farmers and aims to create 17 000 jobs in the next five years. Currently the project creates an average of 300 direct, seasonal and indirect jobs per year.
"This job creation project is a result of a tri-party agreement we've recently secured with the Department of Agriculture, Fisheries and Forestry and the Seda technology programme. The agreement will result in the creation of more than 17 000 sustainable jobs in the next five years. Timbali is a suitable partner for government and private enterprises to up-scale an already working and successful model," said De Klerk.
For more information contact the Timbali Technology Incubator on 013 752 4247 or visit www.timbali.co.za