Government has invested more than R346 million to purchase land that will be redistributed to underprivileged farmers in the Chris Hani and Cacadu Districts of the Eastern Cape.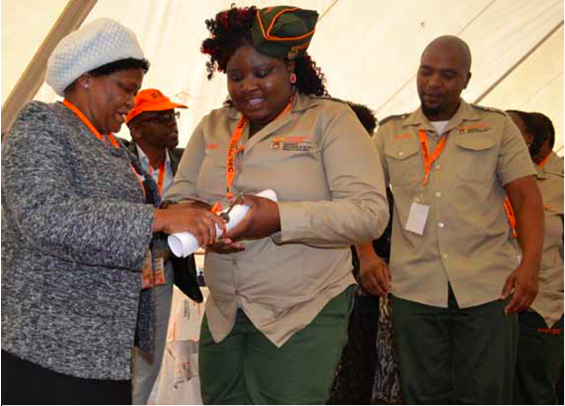 Minister of Rural Development and Land Reform Gugile Nkwinti handed over the 16 000 hectares of land, which make up the 25 farms, in Cradock recently.
Livestock owners, experienced farmworkers and business people were among the 32 beneficiaries of the farms.
They will be required to plant sugar beet and sorghum in order to produce ethanol, which will be processed into oil.
The sugar beet biofuel project is aligned to the National Biofuel Strategy. Government decided to pilot the project in Cradock as a mechanism to reverse and redress the land dispossession that took place in 1913 when the Native Land Act was launched by the white minority government.
Minister Nkwinti said the biofuel project was a national one and farmers needed to be aware that the "use it or lose it" principle that would apply.
He said this step was proof that government was taking the land issue very seriously and it was launching projects to restore the dignity of all South Africans.
The biofuel project is expected to create thousands of job opportunities.
A factory that will produce ethanol from the sugar beet and sorghum is under construction in Cradock. The first phase of construction alone is expected to create at least 1 500 jobs for local residents.
The factory will have about 170 employees once completed.
A selection committee made up of the Agricultural Research and Development Agency, relevant municipalities, farmers' unions and the Eastern Cape Rural Development Agency chose the 32 beneficiaries.
Some of the factors considered during the selection process included the prospective beneficiary's skills and attitude towards farming, ability to operate with little assistance, willing- ness to use the arable land for the production of sorghum and sugar beet and proof of owner- ship of livestock and agricultural assets.
Details on the selected beneficiaries were then forwarded to and received thumbs up from a National Land Allocation Control Committee, which was led by the Deputy Minister for Land Reform Lechesa Tsenoli.
Two of the farms - Lenathal and Sonder Farm - were handed over to National Rural Youth Service Corps members who are currently undergoing training at the Fort Cox Agricultural College.
For more information contact the Department of Rural Development and Land Reform on 012 312 8911.
*Nangamso Ngceke works for GCIS in Queenstown