Written by Siphiwe Nyathi
Limpopo farmer Victor Matjuda was introduced to the rearing of Nguni cattle only a few years ago but he is already reaping the rewards of getting involved with an "awesome breed".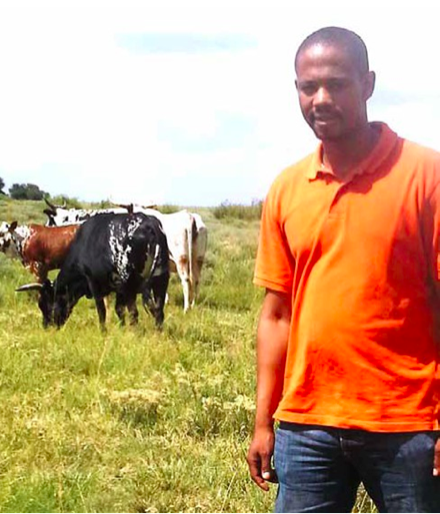 Matjuda, 34, started breeding indigenous cattle in 2009 after participating in the Limpopo provincial government's Nguni cattle breeding programme.
"Participating in the programme was a break-through for me. It helped me become one of the young successful stud breeders in province," said Matjuda.
The cattle breeding initiative - a partnership between the Limpopo Department of Agriculture, Industrial Development Cooperation (IDC) and University of Limpopo - aims to empower and upgrade cattle farming in deep rural areas.
The IDC, which has invested R2.5 million, approves grants for the project while the university helps with research and running the programme.
To qualify for the programme, applicants must own a farm equipped for cattle or have a long-term lease at a state owned farm. They also need to show entrepreneurial abilities and cattle management skills.
Last year, Matjuda was the second runner- up at the Aspirant Young Farmer of the Year competition in the Top Producer for National Markets category.
"Reward is always a great incentive and motivation. It proves value, quality and success in all that you dedicate your time, energy and money to and where you aspire to be, saying to you the sky is but another platform to step on but not the limit," he added. 
Matjuda developed his love for cattle from an early age.
"I grew up among cattle and fell in love with livestock farming in 2006. I got into the programme in 2009 with a loan of 30 cattle and a bull. They have multiplied into more than 100 in the past few years," he said.
Matjuda described working with the Nguni breed as "awesome".
"It gives a lot of satisfaction and it's not a 'sissy' animal. Being able to provide meat for families, helping breadwinners provide for their families and also being able to live a rewarding peaceful lifestyle made me realise that I made a right choice," he said.
However, like every farmer, Matjuda also encounters problems.
"Challenges such as stock theft remain a stumbling block and a thorn in the flesh for many livestock farmers in the province. Grazing fields are also problematic as the more the business grows, the smaller the land becomes.
"Stock theft, veld fires, marketing issues, especially when you are starting out, is still problematic, but with the effort that the department is making, we will overcome it," Matjuda said.
Department spokesman Kenny Mathivha said that since the introduction of the programme, many emerging stud breeders had improved their production.
"We are happy that the programme empowers emerging farmers to become beef production farmers and create jobs in their communities," Mathivha said.
He added that more than 44 projects have benefited from the programme and about 1 500 Nguni cattle have been loaned to farmers.
For more information contact the Limpopo Department of Agriculture on 015 294 3000.