The white Thohoyandou Peanut Butter Cooperative building stands tall outside the city centre of Thohoyandou, Limpopo.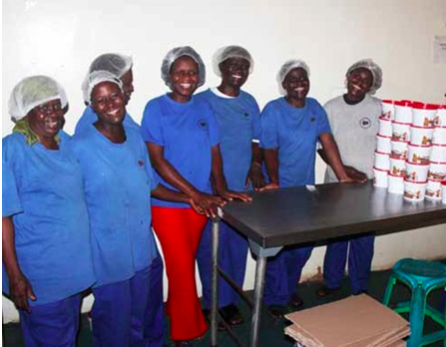 The warm thick smell of roasted nuts dominates the building and inside the peanut butter making facility the room is hot, moist and filled with tubs of peanut butter in different sizes ranging from 500 grams to 20 litres.
The red nuts that will be converted to smooth peanut butter are stacked in white sacks against the roasting machine. They are bought in Mokopani, in Limpopo, but when they are out of season, between November and April, they are imported from Zambia.
Registered in 1998, the cooperative that operates from this building started off with 13 members.
To get the initiative off the ground, the cooperative approached the Limpopo Economic Development Agency (Leda), formerly known as the Limpopo Business Support Agency (Libsa), for financial support.
"With the support we got from Leda, we were able to purchase machines to manufacture the peanut butter, a truck for delivery and the building," said Daniel Managa, who is the cooperative's chairperson.
The cooperative also employed four more people and has become one of the leading manufacturers of smooth peanut butter in Limpopo.
The peanut butter that the cooperative makes is supplied to Spar in Malamulele and Thohoyandou and other wholesalers in the area. The cooperative also supplies the provincial Department of Correctional Services.
Nkhetheni Netshanotha, the financial man- ager of the cooperative, explained that a typical day at the peanut butter factory starts at 7.30am when the nuts are placed in a roasting machine. Once roasted, they are left to cool for two and a half hours. After cooling, they are put in a blanching machine to remove the husks or skins from the nuts.
"The final step involves putting the nuts into a milling machine and then peanut butter is produced," said Netshanotha.
Managa explained that one of the reasons he and his partners started the cooperative was because there weren't many peanut butter producers in the area.
Members of the cooperative were unemployed and realised that making peanut butter could become a means to fight poverty.
"We saw a market and decided to tackle it and it is doing very well. In the future we would like to export our product," he added.
Managa encouraged other unemployed people to consider starting a business but not to expect returns too quickly, saying a lot of patience was needed to survive in the world of business.
Last year the cooperative won Productivity SA's National Productivity Award.
For more information on Leda call 015 287 3000, email info@libsa.co.za or go www.libsa.co.za to locate their 20 branch offices across Limpopo.