More than 10 million breakfast meals have been served to needy learners across the country in the past two years, fi their stomachs so they can concentrate on their lessons.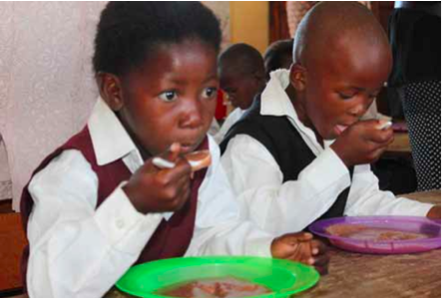 The Department of Basic Education reached the milestone of the 10 millionth meal recently, just two years after partnering with the Tiger Brands Foundation (TBF) to provide nutritious meals to needy learners.
Basic Education Minister Angie Motshekga joined a delegation from the foundation, together with provincial and district education officials, to celebrate at the Gqebenya Junior Secondary School in the Eastern Cape, where a special breakfast event was held.
The programme, which began in Alexandra, Gauteng, in 1994 with six just primary schools, now feeds almost 21 000 primary and high schools countrywide.
More recently, with the help of the TBF programme, a bigger impact has been made on government's National School Nutrition Programme.
Learners are served with Mabele (soft porridge) for breakfast, and rice, chicken and vegetables for lunch.
The programme addresses child hunger and creates a link between nutrition and education. More than 54 000 volunteers countrywide prepare meals for about eight million learners every day.
At the celebration, Minister Motshekga said it was important for learners to start the day with a good breakfast.
"No child can follow what the teacher says in class on an empty stomach," she pointed out.
Minister Motshekga added that government had prioritised school nutrition and R5 billion had been spent on feeding learners in the past year.
She said that the department was committed to supporting learners whose learning was compromised by not having enough food. In many schools, teachers found that learners suffered from fatigue because they had to walk long distances from home to school.
The programme provides meals to deserving learners from rural areas, informal settlements and urban schools where performance in class may be affected by poor economic conditions.
"While learners are provided with nutritious meals, they also are taught to establish and maintain good eating and lifestyle habits. We encourage schools to establish food gardens from which they obtain fresh produce such as fruit and vegetables to supplement the school meals," added the Minister.
TBF CEO Peter Matlare said the poverty that children endured remained a stumbling block.
"For us the important thing is to make a difference in the lives of these learners. All of us started school at this level and it is critical that we support the children in this way," he said.
Minister Motshekga also urged parents to take keen interest in their children's schoolwork and the school nutrition programme.
"Motivate learners to take care of school assets, like plates and spoons, that are provided by the department and the foundation," she said.
*Tshepo Ramonoedi works for the Department of Basic Education