Advertorial
Legal Aid South Africa is making significant progress in ensuring that more South Africans have access to justice.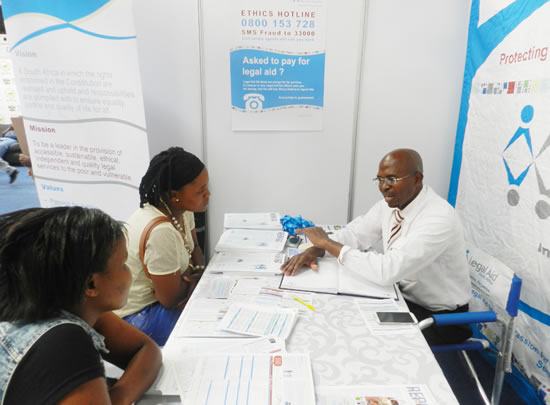 Recently, the organisation presented its 2015/16 performance to the Parliamentary Portfolio Committee on Justice and Correctional Services where it received praise for its good work.
In 2015/16, Legal Aid SA helped more than 750 000 people with legal aid and legal advice through its Justice Centres and Satellite Offices across the country. It was also able to offer help through its toll-free Advice Line, as well as through courts, prisons and outreach in rural areas.
The organisation also received its 15th consecutive unqualified audit opinion, confirming that it manages its work and finances carefully.
Legal Aid SA spent 99.1 percent of its 2015/16 budget, which shows its commitment to improving access to justice for those who cannot afford it.
The organisation was also named a Top Employer for seven years in a row, as well as an Industry Leader in the Public Sector.
"We are proud to be champions of justice for the public and will continue to strive to be a leader in providing accessible, sustainable, ethical, quality and independent legal services to those who cannot afford it," said Chief Executive Officer, Vidhu Vedalankar.
She added that Legal Aid SA is committed to ensuring access to justice for all.
"It is evident that our organisation is committed to our constitutional mandate to assist South Africans to access justice. This legal assistance makes access to justice a reality for many South Africans who would otherwise not be able to afford their own professional legal representation," said Vedalankar.
If you need legal advice, call Legal Aid SA's Advice Line on 0800 110 110 or visit www.legal-aid.co.za 
*Janeske Botes works for Legal Aid SA.