Written by More Matshediso
International relations
South Africa and Kenya have agreed to create an enabling environment to ease the conditions for doing business between the two countries.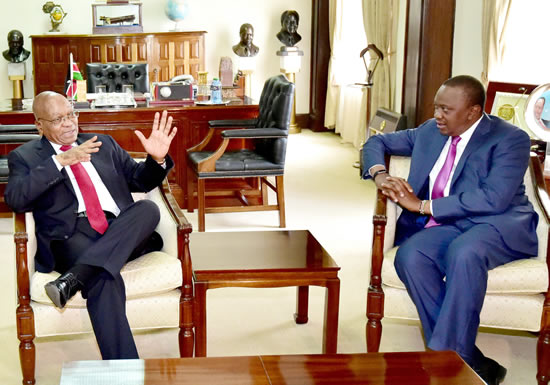 President Jacob Zuma said this at the conclusion of official discussions with Kenyan President Uhuru Kenyatta recently.
"The Tripartite Free Trade Area – covering the Common Market for Eastern and Southern Africa, East African Community (EAC) and Southern African Development Community – is one of the practical initiatives taken by governments to facilitate trade and investment in the continent, consistent with our determined effort to implement the African Union Agenda 2063 and its Plan of Action," he said.
The cooperation between the two countries spans across a number of fields, and the President said they have taken these relations to a higher level.
"We see a lot of room for the further expansion of relations. Over the years, there has been a remarkable increase in economic relations between our two countries, as demonstrated by the large number of South African companies operating in Kenya.
"To date, over 60 South African companies are doing business here. Trade cooperation continues to show an upward mobility, thus making Kenya one of South Africa's top trading partners on the continent."
African development
With regard to continental developments, the two presidents discussed issues related to peace and security in the continent.
President Zuma said they have noted with great concern the challenges posed by terrorism and extremist groups that continue to affect some African countries.
"We condemn in the strongest possible terms all forms of terrorism and extremism. We reiterate the need for joint regional and continental efforts towards countering these negative elements. Since we are in East Africa, it was only natural that we spent considerable time discussing the current challenges in Burundi, South Sudan and Somalia.
"We urge the government of Burundi and people of Burundi to speed up the national dialogue process under the stewardship of the EAC," said the President.
Considering their commitment to finding African solutions to African problems, President Zuma said they have agreed to work together to deal with these challenges.