Department of Telecommunications and Postal Services
In the 2016/2017 Financial year the Deputy Minister of Telecommunications and Postal Services Professor Hlengiwe Mkhize, embarked on a nation-wide drive to connect schools, communities and government buildings throughout provinces.
This initiative was aimed at ensuring that the goal of empowering South Africans through the use of Information and Communication Technologies (ICTs) is attained. The main focus of the ICT empowerment initiative was mainly on youth, women and small businesses.
Thus far, in partnership with various ICT stakeholders in the private sector, Deputy Minister Mkhize has connected previously-disadvantaged schools and communities around the country to enable them to form part of an Inclusive Information Society.
As part of the 2016 and 2017 ICT activities, the
Deputy Minister visited various schools and pursued initiatives of ensuring that access and usage of the Internet by schools, institutions of higher learning and communities is realised.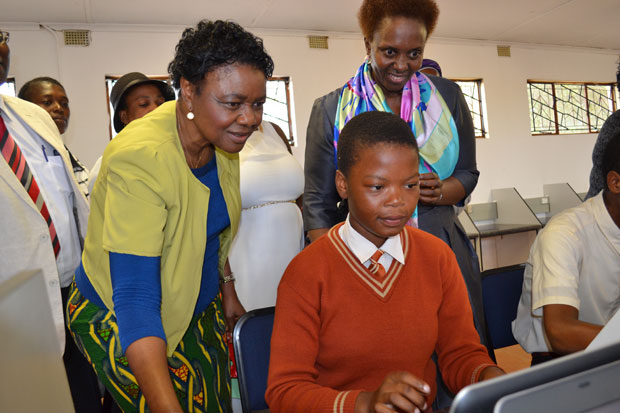 The activities include:
Launch of computer laboratory, donation of computers and tablets and courtesy visit to schools such as:
1. Gcinukuthula Primary School in Nkandla (KZN)
2. Mathole Secondary School (KZN)
3. Velangaye Comprehensive High School (KZN)
4. Mgezwa Secondary School (Eastern Cape)
5. Masixole High School (Eastern Cape)
6. Cala High School (Eastern Cape) as well as Ramosukula and
7. Bophelong Secondary School (Gauteng)
Youth and Women ICT Engagements Programmes such as :
1. The Youth Cyber Safety dialogue (Limpopo)
2. Young Women Professionals and Women in Business (Gauteng)
3. Empowerment of Women and Girls in Cape Town (Western Cape)
4. Youth ICT Seminar in Zamazulu High School (KZN)
5. Youth Development and career guidance in Maluti a Phofung TVET College (Free State)
Launch of ICT Laboratories in Institutions of Higher Learning
Launch at Orbit TVET College(North West) and Community Participation
Programmes and Free Wi-Fi walkabout in Nkandla (KZN), Sharpeville
(Gauteng), Gugulethu (Western Cape), Port Elizabeth (Eastern Cape) and Tsakani (Ekurhuleni, Gauteng).
ICT Small Business engagements such as the Eastern Cape Chapter of Black IT Forum, Southern region Durban Business Fair and Career Guidance.
The Cybersecurity Hub
The Department of Telecommunications and Postal Services has instituted a Cybersecurity Hub, which is a Centre established to ensure that all related cyber threats and
cybercrimes are detected and dealt with accordingly.
The aim of the Cybersecurity Hub is to ensure that all South Africans who have access to the Internet, feel safe using the Internet for their socio-economic well-being.
Access to the Cybersecurity Hub is FREE to all South Africans. 
Deputy Minister Mkhize will continue to embark on this beneficial exercise of ensuring that access, uptake and usage of ICTs by previously marginalised groups is attained and also ensure that all South Africans are provided with a safe online environment to communicate and transact effectively.