An innovative technology introduced in the Eastern Cape has improved access to quality sanitation while saving water.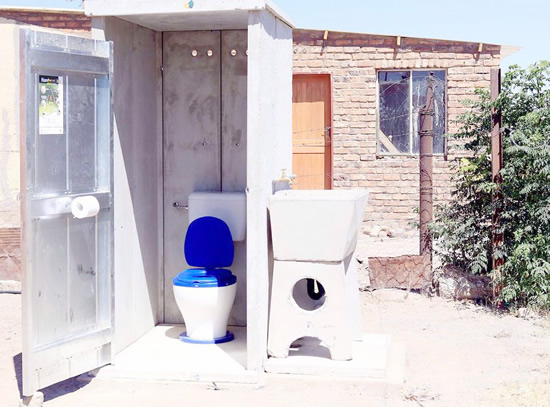 The Department of Science and Technology has unveiled an off-grid sanitation technology solution called the 'low pour flush toilet system', which is already benefiting over 120 households in Ndakana village under Amathole District Municipality.
The system is low maintenance and uses only two litres of water for one flush.
The initiative is a partnership between the department, Water Research Commission (WRC) and the Bill & Melinda Gates Foundation. 
The toilet system was designed to have a look and feel similar to a full flush toilet, but enables greater flushing efficiencies and robustness.
Speaking at the official launch, Science and Technology Deputy Director-General for Socio-Economic Innovation Partnerships, Imraan Patel, said the system represents a significant step up the sanitation ladder from ventilated improved pit (VIP) latrines, which were associated with poor user experiences.
"What started as a pilot study with 20 household toilets has now grown with over 600 of these innovative sanitation systems implemented countrywide," Patel said.
Executive Mayor of Amathole District Municipality, Nomfusi Winnie Nxawe welcomed the initiative, saying it will improve the lives of the people in the area.
"As a drought-stricken district, including Amahlathi, all the technology being provided by the department will undoubtedly assist us in providing services for our people…"   
New system to improve service  delivery
The Department of Science and Technology has launched another new system to help municipalities improve their turnaround times when attending to service delivery complaints.
The Corrective Action Requests Report System (CARRS) is a web-based technology designed by the Council for Scientific and Industrial Research (CSIR) to improve the efficient management of water leaks.
CARRS is currently being piloted in eight district municipalities around the country, including Amathole, Capricorn and Vhembe in Limpopo, Ehlanzeni in Mpumalanga, iLembe in KwaZulu-Natal, and Dr Ruth Segomotsi Mompati, Ngaka Modiri Molema and Bojanala Platinum in the North West.