The ability of education to change a life and transform a society is reflected powerfully in the life of the late ANC President and one of the key architects of our freedom and democracy, Mr Oliver Reginald Tambo.
Had he lived, he would have turned 100 years old this year, and our nation is therefore marking his centenary in 2017.
President Oliver Tambo is celebrated for his exceptional leadership qualities and for providing direction during the darkest years of the struggle for liberation.
Importantly, he was also a teacher with a B.Sc. degree in Mathematics and Physics from Fort Hare University. He then enrolled for a diploma in higher education although he could not complete it after he was expelled for his political activism.
Later on, he completed his post-graduate degree in Law and went to open the first black-owned legal practice in Johannesburg with his friend and fellow comrade, President Nelson Mandela.
President O.R. Tambo was for most of his adult life, an example of all that was good and noble about the teaching profession and leadership. This makes him the perfect role model for all educators in our country.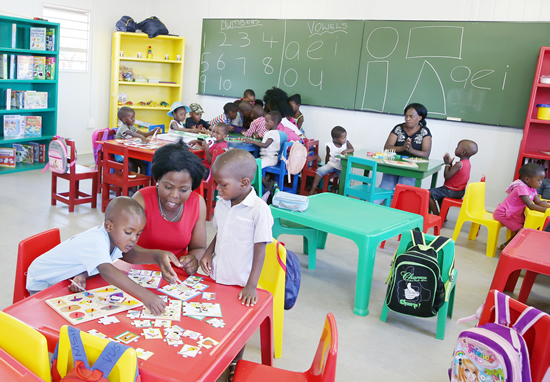 In this O.R. Tambo centenary year, we remind ourselves that education is the ladder out of poverty and economic stagnation.
Education is our primary weapon in the struggle for economic transformation, and in the quest for a better life for all South Africans, especially the poor. It is for this reason that education gets the biggest slice of the national budget.
We will always prioritise the education of our children, because it is only through quality education that we can win our struggle against unemployment, poverty and inequality.
Our young people are hungry for education and are themselves prioritising education and training. Universities and colleges battle to find space for eager young people each year.
Our country's Constitution calls on us to provide quality and compulsory basic education to all South Africans irrespective of race, colour, creed, religion, sexual orientation, gender identity, age, and disability.
This is a task that depends not only on learners and teachers but on parents in particular and our society as a whole.
Education is not only about academic content that may help young South Africans succeed in their careers, but it is also about the values we instill in young people beyond the classroom.
We should all be inspired by the good progress that has been made in education in the past 22 years.
We have made progress towards universal coverage of school going children. We have made progress in the introduction of Early Childhood Development.
We have progressively worked towards eliminating mud schools and inappropriate school structures, replacing them with state-of-the-art buildings, especially in historically neglected areas.
Government has now completed more than 135 new state-of-the-art schools in the Eastern Cape, Western Cape and other provinces. We have also provided dignified sanitation, water and electricity to hundreds more schools.
To fight hunger and poverty in schools, we have expanded the school nutrition programmes or feeding schemes in both primary and secondary schools. The nutrition programme now reaches over nine million children every school day, who are given food free of charge to improve concentration and productivity.
We have also expanded access to free education for children from poor households. More than nine million children attend no fee schools, which is at least 80 percent of our schools. No child must be denied basic education because their parents are poor or deceased.
We have also made progress by steadily and emphatically improving Matric results.
The Matric Class of 2016 worked hard and made us proud and we have even greater expectations of the Class of 2017.
Among our other achievements in education since 2009 is the fact that we have developed and distributed more than 150 million workbooks to learners from Grade R to 9, since 2009.
Government has called on provinces where there could be a slow delivery of books this year to speed this delivery so that no children will suffer the disadvantage not receiving books that are paid for by government – meaning by tax-paying citizens. We agree with communities that books must reach our children on time every year.
We collectively call upon all sectors of society to play their meaningful role to keep our youth in school and help our young people succeed.
We have no choice but to succeed. Education is our only weapon towards prosperity. 
"Education is not only about academic content that may help young South Africans succeed in their careers, but it is also about the values we
instill
in young people beyond the classroom."