Sport
A moment of instant celebration for Bafana fans and players alike turned to sorrow on learning that the national football team had not qualified for the African Cup of Nations (Afcon) finals in 2012 in Gabon and Equatorial Guinea.
Top of Group G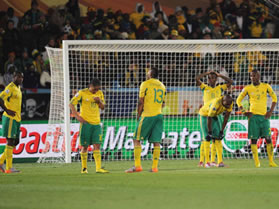 After the qualifying match between Sierra Leone and South Africa early last month, Bafana players, their technical staff and supporters danced and hugged, but their happiness was short-lived when it was announced that according to the Confederation of African Football (CAF) rules, Bafana had failed to qualify for the 2012 Afcon finals.
Bafana, who played a goalless draw against Sierra Leone at Mbombela stadium and finished top of Group G on goal difference, followed by the Leone Stars and Niger all tied on nine points.
However, because Niger had – in the qualifying rounds – beaten both South Africa and Sierra Leone, it had more points than the other two. This gave Niger six points while South Africa and Sierra Leone got five each, resulting in Niger qualifying for the finals in Gabon and Equatorial Guinea.
A winning nation
"If CAF rules apply, we urge all our people to abide by the rules and life should go on," said Minister of Sport Fikile Mbalula.
"With our country having been awarded the hosting rights of the 2013 Afcon tournament, we will have to go back to the drawing board and work harder to get our boys back to where they belong - in an active and winning nation," he said.
"It is really tough, but we are up for every challenge. From now on both our national teams should rest in our knowledge that: The secret of success is learning how to use pain and pleasure instead of having pain and pleasure use you. If you do that you are in control of your life. If you don't do that, life controls you. You really continue to make us proud. You defied great odds."