Youth matters
Curiosity, vision and a clear management plan has helped a team of youngsters from Kwa-Thema to win their ninth first prize in the Bontle ke Botho (BKB) Clean and Green regional competition.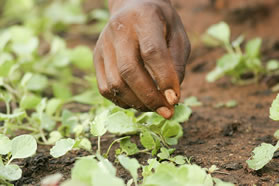 The Ntokozweni Primary School's Enviro Task Team, which is passionate about the environment and dedicated enough to sacrifice their personal time on public holidays, has won the first prize four times at provincial level.
"We have a clear management plan, which has an activity schedule, but above all, our Enviro Team is curious and always looking to learn more about environmental issues," said Lungile Motha, a teacher and coordinator of the Enviro Task Team at the school. Motha was sharing her team's tips for a successful project at the Ekurhuleni Metropolitan Municipality's BKB prize-giving ceremony in Tembisa recently.
Oasis
Motha's school has been participating in the BKB Programme since it started in 2002 and have won first prize in the Ekurhuleni region nine times. The most impressive part is how they have used the money to form an oasis in the middle of their township.
The school grounds boast an indigenous plant garden, a vegetable garden and medicinal herbs, as well as a fully operational nursery from which the community can buy vegetable seedlings.
In addition, a corner with recycling bins demonstrates the team's waste-management skills. The team saves water by watering the garden with rainwater collected in a JoJo container, as well as through an irrigation system which uses a minimal amount of water.
Using indigenous plants as far as possible also helps to save water as they can withstand dry conditions.
River sand
Water is further conserved by planting seedlings in river sand, which retains water and by placing watering cans and tubs outside classrooms to avoid children using too much tap water.
The Enviro Task Team comprises 12 teachers and learners who are involved in the Ekurhuleni Youth and Environment Club, Environmental and School Buddies. They dedicate three days a week to look after the gardens.