Young people, mostly from the Northern Cape, have the assurance that they will get jobs after completing their training as artisans. The Artisan Training Programme is an initiative of the Department of Public Works' Extended Public Works Programme, which aims to create employment, especially for the youth.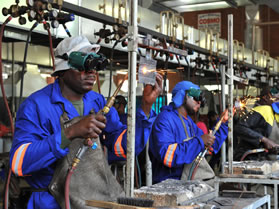 Each one of you will walk into jobs that suit your training and skills after completing the programme. I can't train you and not place you," said the Deputy Minister of Public Works, Hendrietta Bogopane-Zulu. She made this commitment at the graduation of the first batch of young people who completed the theoretical training of the Artisan Development Programme.
A total of 98 learners received their certificates from Bogopane-Zulu at Pelindaba Nuclear Energy Corporation of South Africa (NECSA) outside Saulsville.
The goal of the Artisan Development Programme is to enable them to earn an income while acquiring technical skills that will improve their chances of employment, entrepreneurship and overall development.
The Deputy-Minister appealed to the graduates to stay the course until they complete their 82 weeks of training, which include practical training.
Artisan qualifications
The development programme, funded by the Extended Public Works Programme (EPWP) and the National Youth Service (NYS), will equip learners with artisan qualifications and advanced practical skills. The service-provider, NECSA, was appointed to train them.
Deputy Director-General of the EPWP, Stanley Henderson, said he was impressed that 38 of the learners who received training in boiler making, fitting and turning, mechanical, electrical and welding were young women. He added that after the assessment of the first training programme, youth from other provinces would also be recruited.
Opportunity
"We thank the department for giving us this opportunity. We had our ups and downs in the past eight months that we've been here, but today we are proud to say we are apprentices and it's time to plough back what we've learned in our different trades," said Pulane Kealeboga Jack (27) on behalf of the graduates.
Another learner, Elroy Edmond said, "Before I came here, I knew nothing about boiler making. I will never disappoint by dropping out because I see no reason to start something and not finishing it," he said.
The programme covers accommodation and meals for learners. The National Skills Fund covers all training-related costs.
For more information, call the Department of Public Works: 012 337 3000.