International relations
The South African government hosted the 5th India, Brazil, South Africa (IBSA) Dialogue Forum Summit in Pretoria from 17 to 18 October. It provided a platform for the three countries to have discussions on cooperation in fields such as agriculture, trade, culture, and defence, among other things.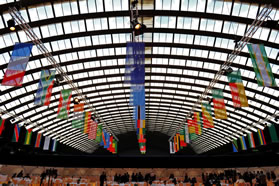 Established in June 2003, IBSA, which stands for India, Brazil and South Africa is a platform for discussion among the three emerging countries. The establishment of IBSA was formalised by the Brasilia Declaration.
The IBSA Dialogue Forum aims to promote international cooperation among the three countries, which will also stimulate cooperation among other countries in the Southern Hemisphere.
Greater understanding
The forum provides the three countries with a platform to discuss cooperation in the fields of agriculture, trade, culture, and defence, among other things.
It also promotes greater understanding between three important continents of the developing world namely, Africa, Asia and South America.
IBSA has become an umbrella for various initiatives, both in the diplomatic field and in public administration sectors.
Global issues
Their status as middle powers, their common need to address social inequalities and combined trade areas in the three countries are additional elements that bring the members of the forum together.
India, Brazil and South Africa, through IBSA will also bring their voice together on global issues, especially regarding cooperation and partnerships with less developed countries.
IBSA does not have headquarters or a permanent executive secretariat. At the highest level, the heads of state meet at the Summits of Heads of State and Government. The last summit took place on 18 and 19 October 2011 in South Africa.
Foreign ministers
Additionally, the three countries' Foreign Ministers meet about once a year at the Joint Commissions of the Forum. Six have taken place to date. The first one was in 2004 in New Delhi. Subsequent forums have been held in Cape Town (2005), Rio de Janeiro (2006), New Delhi (2007), Somerset West (2008) Brasilia (2009) and New Delhi in March 2011.