More than 600 000 matric pupils across South Africa are presently buried in their books studying for their final examinations. For some, who started studying at the last minute, it is a very stressful time, but for those who started preparing well in advance, it is much easier.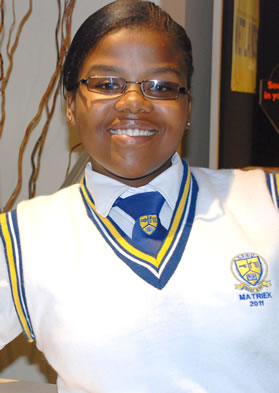 One learner who did her homework well, is 18-year old Pretoria matriculant, Ntombikayise Tshabangu. For her, it is an honour to be in matric after all the years of hard work and studying late into the night. She said sitting for examinations is an indication that she has finally reached a major milestone in her life.  
It's an honour
"It's amazing how time flies. Not so long ago I was in pre-school, but today this is me sitting for my matric examinations, so there's nothing more I can say other than that I am indeed honoured," she said.
"It has been a fun year even though it was difficult, but I managed to overcome the challenges and learned from them. I really enjoyed it as this is my very last year in high school."
Like Ntombikayise, most other matrics have had hurdles to overcome during their final school year. These included having too much to do and too little time, which was stressful, she said.
Leisure activities
However, Ntombikayise believes that it's important to make time for leisure activities and develop other talents such as sport.
"I managed to balance my school work and netball and still passed. Playing for the school's first netball team really made me proud; getting a bronze medal for being one of the best players just added the cherry on top," she said. Eyeing a dream career as an Information Technology (IT) specialist, Ntombikayise plans to further her studies in this field.
"I am extremely lucky because I come from a very supportive family. They put my education first and understand that I need to be focused and dedicated. I urge other families to do same."
Advice
Asked what advice she would give future matriculants, Ntombikayise said those writing examinations must not try to study everything in one night.
"Your brain cannot take in all the information at once; rather study a little bit each and every day. You can study with a friend, or join an after-school homework club for help from a teacher or a friend from the same class."
"Many young people think studying is 'lame' or 'boring'. But it can be fun. You can make up a board game to make studying fun and easy, or you can just type up your notes if it makes it easier to read. Do as much as possible to make sure you know the material, but make time to relax in-between," Ntombikayise said.
Time management
"Matric is not as difficult as one would think; it just requires a lot of studying, concentrating in class and good time management," quips Ntombikayise.
The final exams started on 17 October and the last papers will be written on 1 December. The results will be made public on 7 January 2012.