With thousands of young people using MXit, the Department of Basic Education has found an effective and affordable way to reach learners. This instant messaging application for cellphones is a social network that forms an important part of the department's communication strategy for 2011.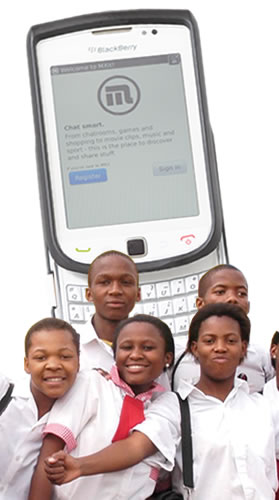 MXit is one of the most popular platforms on a mobile phone and it is no secret that the majority of learners have access to cellphones.
They are techno-savvy and spend a great deal of time communicating through social networks. What makes MXit so popular is that the service charges only 1 cent per message.
By using MXit as a platform to communicate messages to the youth, the Department of Basic Education will be reaching millions of learners.
Awareness campaigns
In October 2010, the department started a three-month awareness campaign on MXit with the Class of 2010 project as the main focus. The campaign provided support systems, spaces where learners could access additional study material, study tips and a facility for learners to send good luck messages to each other.
On 24 October 2010, when the Department of Basic Education scheduled a broadcast message, which went out to all subscribers, a total of 6 346 913 learners received the message on their cellphones.
Communication tool
The department continues to use MXit as a communication tool. They have already used it to send messages about supplementary exams and the Annual National Assessments, as well as for campaigns such as getting ready for matric exams, early registration at universities and encouraging learners to plan for the future.
Other campaigns will include the Funza Lushaka Bursary Scheme Campaign, 16 Days of Activism for No Violence Against Women and Children and the School Nutrition Campaign.
For more information, call the Department of Basic Education: 0800 202 933 or 012 357 3000 Fax: 012 323 6260/0601.