Ms Bongi Dumakude, is a young woman with technical veins in her system. She speaks about gaining practical training and knowledge on the workings of medical gas, air conditioning, refrigerators and fitters at the Chris Hani Baragwanath Hospital where she contributes to the preservation of precious life.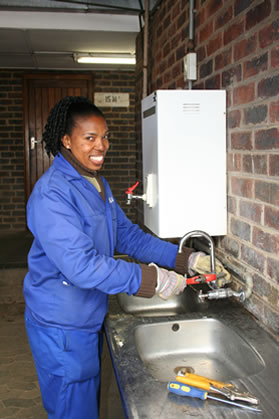 Bongi works under the guidance of experienced artisans in the biggest hospital in the southern hemisphere. She is part of the National Youth Service, a programme that gave 4 000 youth the opportunity to gain knowledge and skills in various areas of the public service.
Opportunities
According to the Gauteng MEC for Infrastructure Development, Mr Bheki Nkosi, "The socio-economic context of Gauteng is characterised by an economy that continues to create opportunities for new investments in Gauteng. It is also characterised by its demand for service delivery. My department has implemented some projects which speak to this need."
It is one of these opportunities created by the Gauteng Department of Infrastructure Development that Ms Dumakude benefited from. "I feel proud to be doing work that was historically preserved for males. Doing maintenance work has helped me to gain important skills and to also grow as a person," she says.
Fulfilling
Ms Itumeleng Sebolediso is on the Accelerated Artisans Training Programme. She specialises in plumbing and says it is fulfilling to differentiate between maintenance and construction works.
"I have realised that communication is the key to resolving service-delivery challenges. The more we talk with one another, the more we will learn to find better solutions. The people who are mentoring us are also very helpful," she says.
Big plans
The Gauteng Department of Infrastructure Development has big plans regarding skills development, for the financial year 2011/2012. According to MEC Nkosi, "the department will address attendant shortages by developing artisans.  The planned intake for the 2011/12 financial years is 200 artisans. About 100 bursaries will be awarded to students to pursue careers in the scarce and critical skills fields.  The department is planning to register 40 learners on learnership programmes. Internships for practical workplace experience will be awarded to 50 graduates. The department has planned to enrol 40 adults on the Adult Basic Education and Training Programme".
Ms Zanele Nkosi is a trainee carpenter. She says it is important to be accurate and meticulous when taking measurements. "We are working with sensitive and dangerous equipment which needs to be handled with care."
Technical know-how
Ms Elsie Masandiwa holds an N6-equivalent qualification in Civil Engineering. She is passionate about bricklaying on which she is currently being mentored and trained over a 12-month period. She also does paving and building.
One of the mentors, Mr Frans Rapotu said, "I have told these young women and men that although I am available for support, it will not help them if I play a protector role. They will then take too long to build the necessary mental muscle to see them through this challenging, but exciting world of technical know-how."
For more information, call the Gauteng Department of Infrastructure Development: 011 355 5000.