Presidential hotline
Since its launch in 2009, the Presidential hotline has served as an important tool for South African citizens as well as government. It has enabled citizens to participate in government and help make it more efficient by voicing their opinions, concerns and complaints.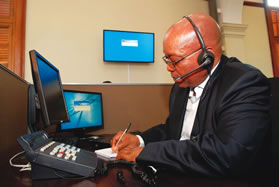 Some provinces have since also started their own hotlines located in the offices of the premiers. These help to ease the pressures on the presidential hotline, especially those cases that can be dealt with by municipalities.
Feedback
An analysis of trends indicates that queries are not only centred around service-delivery, but also on administrative issues. These range from water shortages, poor health and education facilities and inadequate transport services.
The set turnaround time to solve cases reported is three working days, depending on what is involved in a particular case. Focus is placed on providing feedback to callers and updating them on progress even if their cases cannot be solved in the set turnaround time.
Anonymous
Callers may remain anonymous when calling the Presidential Hotline, especially when reporting or complaining about cases of corruption.
Just like other queries, corruption cases are referred to relevant institutions that have the capacity to investigate the alleged corruption. Of all the queries that have reached the Presidential Hotline, allegations of corruption amount to less than 2 per cent.
Employment queries are topping the calls with an estimated 19 per cent, followed by housing problems at 14 per cent.
Categories related to the law, social benefits, information from government, citizenship, electricity, education and training, water and health services, are also high on the list.
Callers to the Presidential hotline are urged not to make false or hoax calls.