Job creation
In line with government's focus on rural development, job creation and service delivery, the Alfred Nzo District Municipality in the Eastern Cape is taking great strides to better the lives of its residents. With its seat in Mount Ayliff, this district municipality is one of seven in the Eastern Cape. It serves four rural municipalities, namely Matatiele, Mzimvubu, Ntabankulu and Bizana.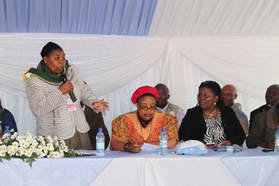 Sharing unhygienic water with animals will be a thing of the past for the Sibanda family in Ntenetyane Village, Mt Frere, following the launch of the R103 million, KwaBhaca Regional Bulk Water Supply Scheme.
In addition to clean water, the project will create jobs for more than 1 100 people in the area.
Making life easier
After sharing a small pond with animals in the area for many years, Nokwanda Sibanda and her family are happy that their lives will now be easier.
"We are so happy that we're getting clean water. I grew up drinking water from the pond and was losing hope that we would ever get clean tap water. I even told my children that for them to get clean water and electricity they must go stay in townships," she said.
Sibanda's household is one of about 16 700 in a local population of 100 000 people spread over more than 40 villages to benefit from the new R103 million water scheme.
Economic development
Alfred Nzo District Municipality Executive Mayor Eunice Diko said the objective of the project was to increase the treatment capacity of the KwaBhaca Water Treatment Works and to ensure adequate supply for the area. She said this would also stimulate economic development in the Mt Frere region.
In addition, the project will unblock the building of houses that was put on hold due to a scarcity of water in the area.
Construction of the project is due to start with the installation of the bulk pipeline from Ntenetyana Dam this month. The dam project alone will provide employment for more than 149 people.
Other projects
The Alfred Nzo District Municipality also launched two water projects worth R70 million in Qwidlana in Mt Frere and Caba Mdeni in Matatiele.
Fourteen villages consisting of 2 094 households with a population of 12 564 people will benefit from the Qwidlana Water Supply Project, which will provide safe drinking water and create about 400 jobs.
The Caba Mdeni project will supply water to 589 households with a population of 3 587 people, and create jobs for 67 people.
A Maluti-Ramahloakana Waterborne Sewage project of R40 million was also launched recently. It will bring waterborne sewerage to 1 220 households with a population of 7 320 people in the Maluti Township area in Matatiele Local Municipality. The project is expected to create jobs for about 60 people.
For more information, call the Alfred Nzo District Municipality on 039 254 5000.