Sport
Famous for its legendary Big Hole during the diamond rush at the turn of the 19th Century, the city of Kimberley in the Northern Cape has added a 21st century feather to its cap.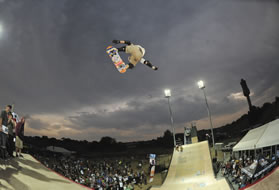 Kimberley is the new-found skateboarding capital of South Africa. This follows the city's successful hosting of the Maloof Money Cup World Skateboarding Championships 2011 early last month. It was the first time that this world-renowned skateboarding event was held outside its traditional venue – the United States of America.
The event confirmed once again that South Africa is a sporting destination of choice following the country's successful hosting of major events such as the 2010 FIFA World Cup, a Cricket World Cup, the African Cup of Nations, the All Africa Games and a Rugby World Cup.
Incredible country
Joe Maloof, the creator of the Maloof Money Cup, was blown away by the experience in the Northern Cape.
"I have never seen anything like it. The fans were absolutely incredible," he said.
"The people here in South Africa and Kimberley welcomed us with open arms and we've had the time of our lives. This is an incredible country and we are excited for the future of skateboarding here – I'm confident we'll see a champion from South Africa emerge very soon."
Local fans
Skateboarding champion Ishod Wair won the Maloof Money Cup Skateboarding World Championship, with Durban-born Tommy Flynn taking second place. Canadian skateboarder Pierre Luc Gagnon took the honours in the vert competition, which involves riding a skateboard on a vertical ramp.
The event has sparked the excitement and interest of local fans to take up skateboarding, something that will be encouraged by the Northern Cape Provincial government.
South African Tourism was one of the major sponsors of the event, along with Standard Bank and Kumba Iron Ore Mine Limited.
Congratulations
Roshene Singh, South African Tourism's chief marketing officer, was thrilled at the outcome. Singh said the Maloof Money Cup was clearly a huge success and had brought considerable global exposure from a completely new market to the Northern Cape.
 "The skaters and the Maloof family left South Africa delighted with their experience, excited to be returning for the next two years, and as influential ambassadors for our destination," she added.
"We would like to congratulate the Northern Cape authorities for the hard work that went into staging the event and commend them on the great success of the Maloof Money Cup," said Singh.