The Department of Rural Development and Land Reform is ensuring that the Comprehensive Rural Development Programme sites are making progress in improving life for poor communities.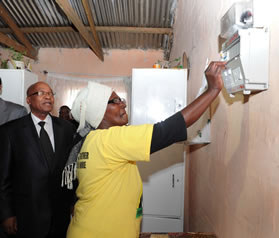 Life has become much brighter for about 760 households in Ward 12 in KwaDolo, Msinga, KwaZulu-Natal. In August, the Minister of Rural Development and Land Reform, Gugile Nkwinti, accompanied by the Deputy Minister of Energy Ms Barbara Thompson, attended a ceremony to switch on electricity in this rural community.
The Department of Rural Development and Land Reform contributed about R10 million to the project, which was initiated by the uMsinga Local Municipality.
Forty-three youth members from Msinga were involved in the programme and 12 National Rural Youth Service Corps participants were present at the event.
Reaching out
Among those who benefited was the Xulu family of eight children who lost their parents in 2008. The eldest is only 21 years old and has two children of her own.
The family, who used to gather wood and cook on an open fire, is delighted to have access to electricity. They now also live in a new RDP house and receive social welfare grants.
Solar energy
With these services they are grateful that government is reaching out to poor families in rural communities.
The Department of Energy has introduced solar and gas energy in Msinga and the Msinga Municipality installed 4 270 solar heating systems.
Since Msinga is one of the most deprived municipalities in KwaZulu-Natal, it was identified as a Comprehensive Rural Development Programme site. As part of its commitment to this programme, the department is funding a number of projects in the area. Most have started to bear fruit for local communities.
Water scheme
The Minister of Rural Development visited the Nxamalala vegetable production project, which was fenced at a cost of R500  000. An irrigation system worth R800 000 was also installed.
He also visited to the Ndaya Water Scheme, which aims to provide about 800 households with safe drinking water.
Msinga is known for water shortages. The water scheme has two phases; the first has been completed and the second will be completed by the 31 March 2012.
For more information, call the Department of Rural Development and Land Reform 012 312 8911