International relations
South Africa is always willing and looking at ways to improve its relationships, cooperation and partnerships with other countries to benefit the country and its people.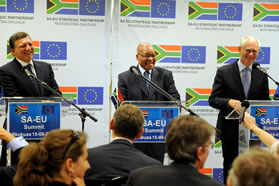 To this end, the fourth annual meeting between South Africa and the European Union (EU) recently took place at Skukuza in the Kruger National Park, Mpumalanga. President Jacob Zuma and the President of the European Council, Herman van Rompuy, led the discussions with the aim of reviewing and building on the partnership between the two sides.
The EU is an economical and political partnership between 27 countries European countries, including the United Kingdom, Germany, France, Italy and Greece.
Trading partner
As South Africa's biggest trading partner, the EU has recommitted itself to trading with and aiding South Africa and Africa. This is despite the debt crisis affecting some of its member countries, threatening its currency, the euro.
In 2009, the EU launched a €100-million (about R1 000 million) programme aimed at boosting job creation and stimulating economic growth in South Africa.
Van Rompuy said South Africa, as a developing African country, was a strategic partner in the region. "I am pleased our relations have continued to strengthen since last year.
We now cooperate in an increasing number of matters, including science and technology, energy, environment, education and health, to mention just a few."
The EU has undertaken to establish a South African Development Partnership. The purpose is to look at new opportunities of trade and cooperation in areas such as infrastructure, information technology communication, crime and justice, as well as global issues such as climate change.
Partnership
The EU will also support government in fields such as healthcare. To this end, it has committed 126 million euros (about R1 346 million) towards improving primary healthcare in South Africa. This will be used to help increase life expectancy, reduce maternal and child deaths and to step up the fight against HIV and AIDS and tuberculosis.
What is the European Union (EU)?
The EU is a group of European countries that participates in the world economy as one economic unit and operates under one official currency, the euro.
The EU's goal is to create a barrier-free trade zone and to improve economic wealth and growth by creating more efficiency within its marketplace.
The EU is South Africa's biggest trading partner.