Youth matters
Two months before he was to leave on a lifetime opportunity to pursue his studies at a university in Turkey, Mthokozisi Perceverence Guliwe's stepfather and guardian passed away.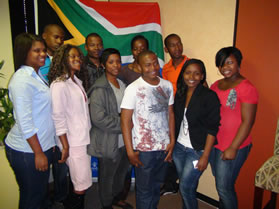 As difficult as things were, the 19-year-old, with his struggling mother's blessing, left South Africa with a group of 11 other disadvantaged youths who had been awarded scholarships to study at various universities in Turkey
Partnership
The scholarship is a partnership between the National Youth Development Agency (NYDA), the Department of International Relations and Cooperation and the Turkey Embassy.
In October last year, Mthokozisi from Nhlazatshe, a village near Badplass, Mpumalanga, and other recipients from five provinces, left South Africa to pursue their dreams of studying in the fields of engineering, information technology, biomedical technology, commerce and law.
The Mechatronics Engineering student Mthokozisi says: "I was in a church choir practice when I received a call from the NYDA informing me that I had been chosen to receive a scholarship to study overseas. My mother was overjoyed when I told her."
Last month, the students returned to South Africa for their first home visit since the departure but returned to continue their studies.
New world
Lucinda Fischer (21) from Manenberg in Cape Town has enrolled to study Geological Engineering, a four-year Bachelor of Science Degree, at the Middle-East Technical University. Lucinda says having left South Africa for Turkey in October last year had opened her eyes to a new world.
"I've had to mature fast; I made new friends and met new people. I was sad to leave my family behind but the thought of reching my goal keeps me going. I want to make my family and my country very proud," she says.
The scholarship covers tuition, residence and a monthly stipend. Recipients of the scholarship come from KwaZulu-Natal, Mpumalanga, Gauteng, Limpopo and the Western Cape. The project is in the first year of implementation.
For more information, call the NYDA call centre on 0860 096 884.