He started smoking at the age of 22 and could easily finish the whole packet in one day. But 32 years later, death stared David Mkefa in the face as a result of his smoking habit.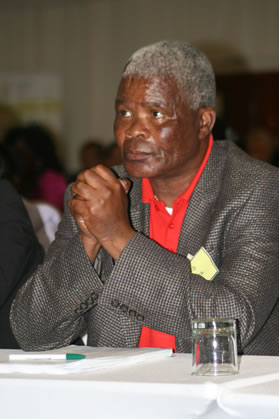 Cancer survivour David Mkefa aged 57 from Soweto is one of the lucky few who survived cancer and was given a second chance. He is now on a mission to help others stop smoking before it's too late.
Admitting that he invited the disease into his life, Mkefa said, "While other people suffer from transmitted diseases, I got mine over the counter. I just couldn't control my smoking habit and was unable to do anything without having a smoke first."
Chest pain
Speaking with a hoarse voice, Mkefa knew something was wrong when he felt some pain in his chest and lost his voice. On consulting the local clinic, the first diagnosis was bronchitis.
"I was given some medication, but it didn't help much; my chest was better, but my voice didn't come back."
This is when Mkefa suspected that he could have cancer as he had read about the early symptoms of the disease in a magazine article.
"The article included early symptoms of cancer caused by excessive smoking, which confirmed my fears. I had the same symptoms including chest pains, difficulty with breathing and loss of voice. I was angry with myself because I invited this into my life," he said.
Cancer of larynx
He was referred to Chris Hani Baragwanath Academic Hospital for tests and the results confirmed that he had cancer of the larynx.
"The doctor told me that they would give me the best treatment, but emphasised that I should also help myself by kicking the smoking habit. I had to come up with a plan to try and spend a day without smoking," he said.
After undergoing radiation therapy for seven weeks, Mkefa was declared cancer-free. However, only his left vocal chord recovered, his right vocal chord was permanently damaged by cancer.
What is the larynx?
The larynx is the part of the respiratory (breathing) tract that lies between the pharynx (the upper throat) and the trachea (the windpipe). The larynx contains the vocal cords, which are responsible for the sounds we make when we speak.
Quit now
"Smoking is bad news, if you don't quit now, the journey ahead of you is full of thorns," Mkefa said.
Cancer is among the four main non-communicable diseases (NCDs) and account for more than 63 per cent of deaths worldwide. Other NCDs are cardiovascular disease, chronic lung diseases and diabetes.
In a bid to reduce the burden of NCD, global leaders met at the United Nations in New York in September to set a new international agenda on NCDs.
For more information, call the Department of Health on 012 395 8000 or 012 395 9000.